BHN Exclusive: McAvoy Eyes Morrissey, Provorov $$, Bruins Disagree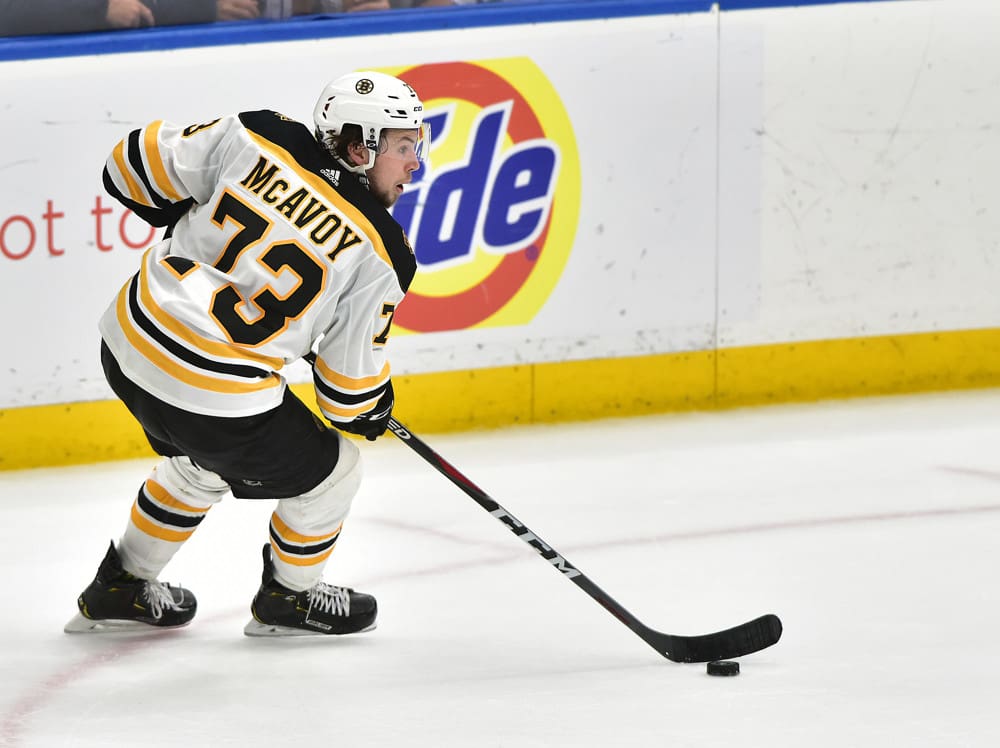 The dominoes finally began to fall with restricted free agent defensemen Thursday. Even a defenseman a season away from RFA status got a new deal. So why were Boston Bruins restricted free agent defensemen Brandon Carlo and Charlie McAvoy not signed and skating during the first on-ice session of Bruins training camp Friday?
There has not been much news or even chatter surrounding Carlo, but an NHL source close the situation spoke with Boston Hockey Now Friday about McAvoy.
The major reason McAvoy has not yet signed was "term of the contract". According to this source, McAvoy is eyeing a six to eight-year contract similar to Winnipeg Jets defenseman Josh Morrissey, who signed an eight-year, $50 million extension Thursday. Fellow RFA rearguard Ivan Provorov signed a six-year, $40.5 million deal with Philadelphia Thursday, too.
According to this source, the Bruins are using the three-year, $15 million contract the Columbus Blue Jackets signed fellow RFA defenseman Zach Werenski to Monday, though the source stressed that the team is willing to go to six if the annual cap hit makes sense. As Bruins general manager Don Sweeney told the media Monday, the team has discussed multiple term deals but will not sign a five-year contract in which McAvoy goes straight to unrestricted free agency when the deal expires.
When the Blue Jackets signed Werenski to what amounts to three-year bridge contract this past Monday, the common belief was that the Bruins and McAvoy had the comparable needed to finally iron out a contract. There was cautious optimism amongst media and fans alike that McAvoy could even be on the ice for the first training camp skate Friday. However, it appears many jumped the gun because there was no McAvoy patrolling the blue line in either of the two training camp sessions at Warrior Arena Friday though.
After Morrissey signed Thursday, NBC and TSN Hockey analyst Pierre McGuire speaking on his daily segment on TSN 690 in Montreal suggested Morrisey's contract, not Werenski like so many had pointed to, would be the right comparable for the Bruins and McAvoy to use.
"That should be the template for McAvoy's contract in Boston," McGuire said told lead host Mitch Melnick on 'Melnick In The Afternoon. "I don't know if Boston will want to do that, but that should be the template. That's the comparable that you can work off of. McAvoy's bigger than Morrisey and Morrisey may eventually get more points, I don't know. Charlie may be more of a shutdown guy than Josh, but they're both really important players. They're both extremely good."
Cohost Mitch Gallo then suggested to McGuire that McAvoy would likely prefer a short-term deal in which he could hopefully write his own ticket to a bigger deal when he became an RFA again.
"It depends on how you view yourself," McGuire replied. "If I were Charlie, I wouldn't be afraid to take that (Morrissey) money because I don't think it's his last contract. But again, you gotta buy up years of free agency. So I really think this is a contract that they can work off of, the Bruins and Charlie's representatives.
If you're a team and you really believe in the player, you want the player signed longer-term, but if you're a player – you know Mitch Gallo made an excellent point – if you're McAvoy, maybe you think you're going to put up more points, you don't know, then maybe you take a shorter deal because you're gonna bet on yourself. But I'd say more times than not if an agent can get a player sustained years of income if you can get eight instead of six, it's probably the better way to move, the more prudent way to move."
Fluto Shinzawa reported back in February that McAvoy turned down a multi-year extension because he was looking for something similar to that of the eight-year extension Florida Panthers defenseman Aaron Ekblad signed back in 2016 and the belief was that the term of the Bruins' offer was six years at the time. Due to the Bruins only having $7.2 in cap space and also having to sign Carlo, could the two sides circle back to six years with a cap hit in the ballpark of $5.8-$6 million? We shall see. One thing is for sure though, unless the money makes more sense, McAvoy apparently would prefer not to do a bridge deal like Werenski.