Can Bruins Sign Bertuzzi Without Trading Ullmark?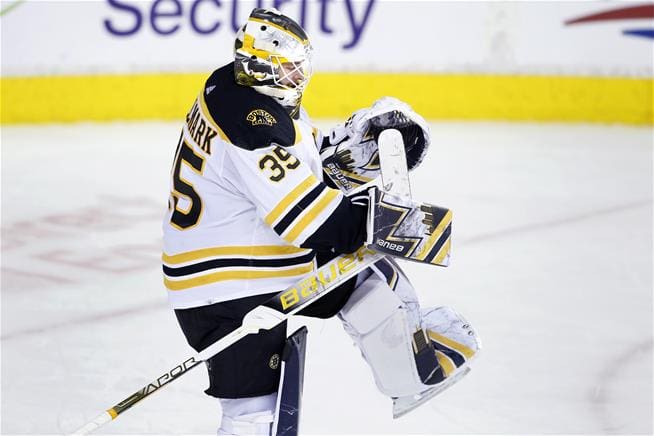 Can the Boston Bruins sign unrestricted free agent-to-be Tyler Bertuzzi if they don't trade goalie Linus Ullmark and his $5 million salary cap hit?
A day after Ullmark won the 2023 Vezina Trophy, Boston Bruins general manager Don Sweeney was asked if he would be bringing back the Jennings Trophy-winning tandem of Ullmark and Jeremy Swayman?
"Again, congrats to Linus, the Vezina Trophy winner," Sweeney said on Tuesday. "Jeremy was a pretty good sidekick in winning the Jennings. We were really good in the regular season; we didn't play as well as a team, and they are part of that in the playoffs, and we fell woefully short of what we set out to do.
We're in a terrific spot if we decide [to run it back], and that is what our indications are right now unless something else materializes between now and then. It doesn't mean I won't. You guys know me well enough, I have to do my job as to what might present, and the goalie market is an interesting one right now."
Later in his pre-draft media availability, Sweeney was asked point-blank if he would make any more salary cap space-clearing trades like the one he completed on Monday when he sent Taylor Hall and his $6 million salary cap hit to the Chicago Blackhawks.
"No," Sweeney replied matter-of-factly.
He, as team president Cam Neely did after him, indicated that he could fill out the rest of his roster with his $10.9 million in projected cap space via a youth movement.
"We're in a fine spot to be able to. …again, we've always said that there will be some turnover associated with that. I was pretty honest at the end of the year and realized that that might include some of our younger guys getting an opportunity or bringing in some players that might be looking for that platform or second opportunities.
That is just the nature of where we're at right now. We certainly pushed a lot to the middle of the table in terms of trying to accomplish an ultimate goal and we fell short. We have to regroup as a result."
However, on Wednesday, one prominent NHL insider wondered aloud if Sweeney was being coy and seemed pretty confident that the Boston Bruins GM wasn't done wheeling and dealing since he still wants to do his best to sign Bertuzzi.
In the latest edition of the 32 Thoughts Podcast, Elliotte Friedman had this to say about Sweeney, Ullmark, and Bertuzzi:
"I'll say this: On Monday, I reported that they were getting close to that trade with Chicago, and it was very difficult to figure out exactly what was going on because I think Boston was really trying to be tight about 'we're making a salary cap move' and freaking out some of their players about over who it could be, and Hall didn't have a no-trade to Chicago so they could move him there.
You know, one interesting thing about Hall, by the way, I think Chicago made the deal knowing that Hall was hurt at the end of the year, so they were willing to take that chance.
I think the guy [the Bruins] really want to sign is Bertuzzi, but I still think they're going to have to do some other things to get this done. I don't think they're finished. I can't remember. I think it was [Hampus] Lindholm. Like I said, my crystal ball is foggy, but I think one of the reasons Lindholm signed without seeing Boston is the Bruins always get things done. Not everybody agrees with the things they do, but they're generally a good organization, and they figure things out. There's a reason they've been as consistent as they've been for as long as they have. They find great players, they attract good players, and they get things done.
This is a huge challenge for them, obviously. [Hall] was one thing they did to open up some room. I don't think they're done yet, and I just don't know if you can really figure out what they're going to do until they cull before they bring back. I still have trouble figuring out where it's going to go, except I believe that Bertuzzi is going to be the No. 1 guy. I gotta think there's a decent chance one of those two goalies is going somewhere."
"The way Sweeney talked, he didn't sound optimistic, and sometimes at this time of year, I just have trouble deciding if that's real or it's 'this is what we want people to think?"
Friedman then added this later in the day on The Jeff Marek Show:
"Again, they're looking at Hellebucyk. If the Boston goalies are available, I'm sure they're talking to them too. There are a lot of goalies out there. I think a lot of people are watching to see what Boston does there."
NHL Draft chatter with Boston Hockey Now on Wednesday had the Pittsburgh Penguins, Toronto Maple Leafs, Edmonton Oilers, Los Angeles Kings, Arizona Coyotes, and Carolina Hurricanes as potential suitors for Ullmark if he is indeed being shopped.
So will Sweeney try and leverage the recency bias value of Ullmark winning the Vezina and leading the NHL in wins (40), goals-against average (1.89), and save percentage (.938), and gain the cap space he needs to keep Bertuzzi?