Talking Points: Ullmark, Bruins Jump Into Playoff Spot, Beat Flames 4-2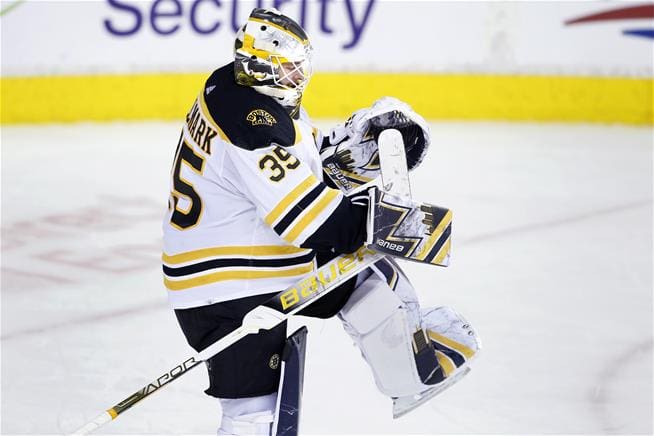 Linus Ullmark shined again with 40 saves and for the first time since the first week of the regular season, the Boston Bruins moved into a playoff spot with a 4-2 win over the Flames Saturday in Calgary.
The win gave the Bruins an impressive 2-0-1 record on their Northwest Canada three-game road trip. After dropping the first game of their three-game road trip through Northwest Canada 2-1 in a shootout loss to the Vancouver Canucks Wednesday, the Boston Bruins completed a two-game sweep through Alberta. Behind two brilliant performances from Ullmark, the Bruins escaped Edmonton with a 3-2 win over Connor McDavid, Leon Draisaitl, and the Oilers on Thursday, and on Saturday they shut down another Stanley Cup Contender beating the Flames.
Brad Marchand (goal, assist), Patrice Bergeron (two assists), and Trent Frederic (two assists), led the way for the Bruins, while Curtis Lazar, Charlie McAvoy, and Connor Clifton also lit the lamp for the B's.
Sean Monahan and Matthew Tkachuk scored for the Flames and goalie Jacob Markstrom made 23 saves on 27 shots.
The Bruins now head home to face the Vegas Golden Knights Tuesday night at TD Garden.
GOLD STAR: Linus Ullmark – Let's get this out of the way here; until the last two games, your humble puck scribe here has been very skeptical of the Boston Bruins for signing Ullmark to a five-year contract that carries a $4 million cap hit. Some shady performances early on and an injury began to validate that skepticism but in his last two starts, Ullmark is making yours truly eat some mad crow. He's now stopped 81 of 85 shots and looks like the goalie Bruins GM Don Sweeney went all in for despite having Jeremy Swayman and potentially, Tuukka Rask in the waiting.
Linus Ullmark in his last 5 games:

4-1-0 record
.941 save percentage pic.twitter.com/agjHjTvHDJ

— Conor Ryan (@ConorRyan_93) December 12, 2021
The next month should be interesting as Rask's seemingly pending return grows closer. It's worth noting, as I did on Twitter during the game, that Ullmark has been playing like a Vezina Trophy candidate since Tuukka Rask jumped in for him at practice this past week. Things may get really interesting between the pipes for the Bruins.
BLACK EYE: 85-57 The negative shot differential in shots for the last two Bruins games. While it's great that Ullmark was a brick wall the last two games; what if he wasn't? The Boston Bruins definitely appear to be building chemistry but late in the last two games, they have relied on Ullmark way too often.
TURNING POINT: There were plenty of Ullmark saves that could be considered a turning point, but Curtis Lazar scoring 2:57 into the final frame seemed to be the nail in the coffin for the Flames. Yes, Flames forward Sean Monahan scored 18:24 into the third but it was too little too late at that point, as Lazar's goal had emphasized how the Bruins had taken the game over.
The fourth line cashes in.

Curtis Lazar knocks home the loose puck for his second goal of the season.

4-1 Bruins. pic.twitter.com/oheOe7Yfh3

— Conor Ryan (@ConorRyan_93) December 12, 2021
HONORABLE MENTION: Brad Marchand – Forget the goal and an assist for Marchand, it was clear again that his leadership and passion have become contagious amongst the newcomers on the team. 
"[He] came in and played a lot of minutes for us, and that's who he is, that's what he does, and that's it. It's going to keep getting better," Bruins captain Patrice Bergeron said after Marchand scored in his second game back and a 3-2 Bruins win over the Oilers on Thursday.
Marchand followed that up with a two-point performance in Calgary and once again, it's crystal clear that he is a Hart Trophy candidate.
Brad Marchand with the perfect tip: pic.twitter.com/hhElhqziVe

— Evan Marinofsky (@EvanMarinofsky) December 12, 2021
BY THE NUMBERS: 1,042 – The number of games former Boston Bruins winger and fan-favorite, Milan Lucic, has played in the NHL. Well, 1,042 wasn't exactly the most important number here. Due to the fact, Lucic reached his 1,000th game when fans weren't allowed in the Scotiabank Saddledome or any NHL arena until the Stanley Cup Playoffs last season, the Flames rightfully picked Saturday, in a game against his former team, to honor him for the milestone.
"To have it here tonight and recognize it against a team that I played over half of my games with will be pretty cool," Lucic said prior to the game Saturday.
It was cool and it also made this veteran puck scribe miss postgame or post-practice scrums and one-on-ones with Lucic because he really gave some of the most thought out and sincere answers. Congrats Looch!
Looooooooch.

Congrats again on your 1,000th career game! 👏 #Looch1000 | @27MilanLucic pic.twitter.com/reE56Mmo7Q

— Boston Bruins (@NHLBruins) December 12, 2021
QUOTE TO NOTE: "It wasn't an easy trip for us…We're real proud as a staff of the players and what they did this trip." – Assistant Coach Joe Sacco.