Talking Points: Ullmark struggles in Boston Bruins Preseason Loss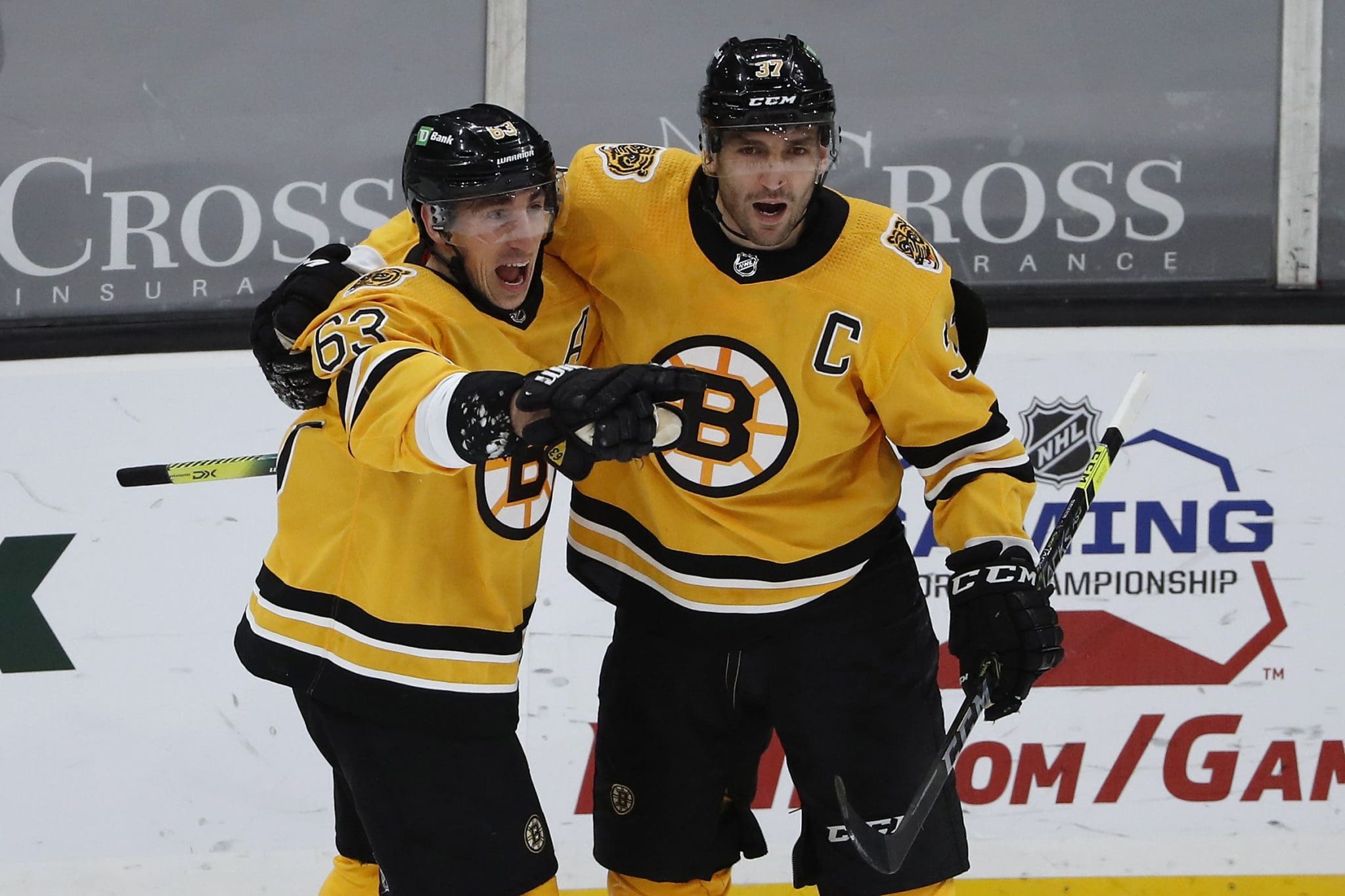 BOSTON — Here are the Talking Points from the Boston Bruins 4-3 preseason loss to the New York Rangers in overtime at TD Garden in a game where it was a largely veteran group for the Black and Gold.
GOLD STAR: The Perfection Line looks like they are in midseason form at this point. All three forwards scored against the Rangers and both Pastrnak and Bergeron had goals in the first five minutes of the game. Then Brad Marchand added a shorthanded score later in the first period to finish off the scoring for the B's in this one. The Marchand shorthanded, in particular, was a beauty as he corralled a puck out of the air, drove past NY Rangers defensemen Matthew Robertson while completely leaving him in the dust and then snapped one past Alexander Georgiev after putting on the brakes in front of the net. As a line they had three goals, five points and 16 shot attempts while Bergeron won 14-of-17 face-offs on the evening. The Bruins top line absolutely look like they are in midseason form, so it's most definitely time to put them in bubble wrap and store them away for the regular season.
Just filthy pic.twitter.com/8z3RCti7Qv

— Joe Haggerty (@HackswithHaggs) October 2, 2021
BLACK EYE: Linus Ullmark has allowed six goals on 32 shots through two preseason games for the Bruins for a rough .813 save percentage and had a ghastly turnover in overtime when he tried to sneak a pass past Alexis Lafreniere that he intercepted and tossed into the net for the easy game-winner. It was an odd play all around as David Pastrnak had passed it back to the B's goalie while Boston Bruins went for a change at the bench, but the B's goalie clearly needs to execute it better than he did. Ullmark also had a rough transfer with Charlie McAvoy in the first period that wound up with McAvoy getting called for a hooking penalty. So it's needless to say that the netminder has some work to do to get into regular season form, and that things are cleared for Jeremy Swayman to grasp quite a bit of the playing time to begin this season. It's going to be interesting to see how Ullmark responds playing in a place where there are higher expectations than there were in Buffalo.
The Linus Ullmark era is off to a rocky start in Boston pic.twitter.com/rwonj0VG72

— Joe Haggerty (@HackswithHaggs) October 3, 2021
TURNING POINT: Honestly, the game turned on the penalty shot Kevin Rooney scored on that tied up the game and allowed the Rangers to push things into overtime. It was a slashing call on Charlie McAvoy recovering on a play that gave Rooney the free scoring chance, and the Massachusetts native did not make any mistake with his bid. The bottom line in this one, though, is that the Bruins had a 3-1 lead at the end of the first period and all three members of the Perfection Line scored, and those are the kinds of games that will be money in the bank during the regular season. So you can chalk this one up to preseason hijinks rather than something to worry about, particularly if Ullmark gets some things straightened out with his new team.
HONORABLE MENTION: It's a big year for Alexis Lafreniere in his second NHL season with the Rangers and they will undoubtedly be looking at him to really step into the expectations given for a No. 1 overall draft pick. He certainly showed the skill and the elite hand/eye coordination when he intercepted Linus Ullmark's saucer pass attempt and then quickly snapped the puck into the open net before the Boston Bruins goaltender could recover in overtime. Lafreniere finished with a goal, two points and a plus-2 rating in 20:48 of ice time and had a couple of shot attempts and a couple of hits to go along with a couple of giveaways in a wild game.
BY THE NUMBERS: 8 – the number of hits for Sammy Blais as an NHL veteran in a preseason game is all kinds of impressive. Relax, dude, you made the team.
BY THE NUMBERS: "We have some very skilled guys in front of me…a very good team. So if I step up my game a little more there will be an easy win, I would say" –Linus Ullmark, after giving up four goals on 19 shots and committing a rough turnover in overtime that directly led to New York's game-winning goal.