Hagg Bag: Some Boston Bruins Talk In The Summer Break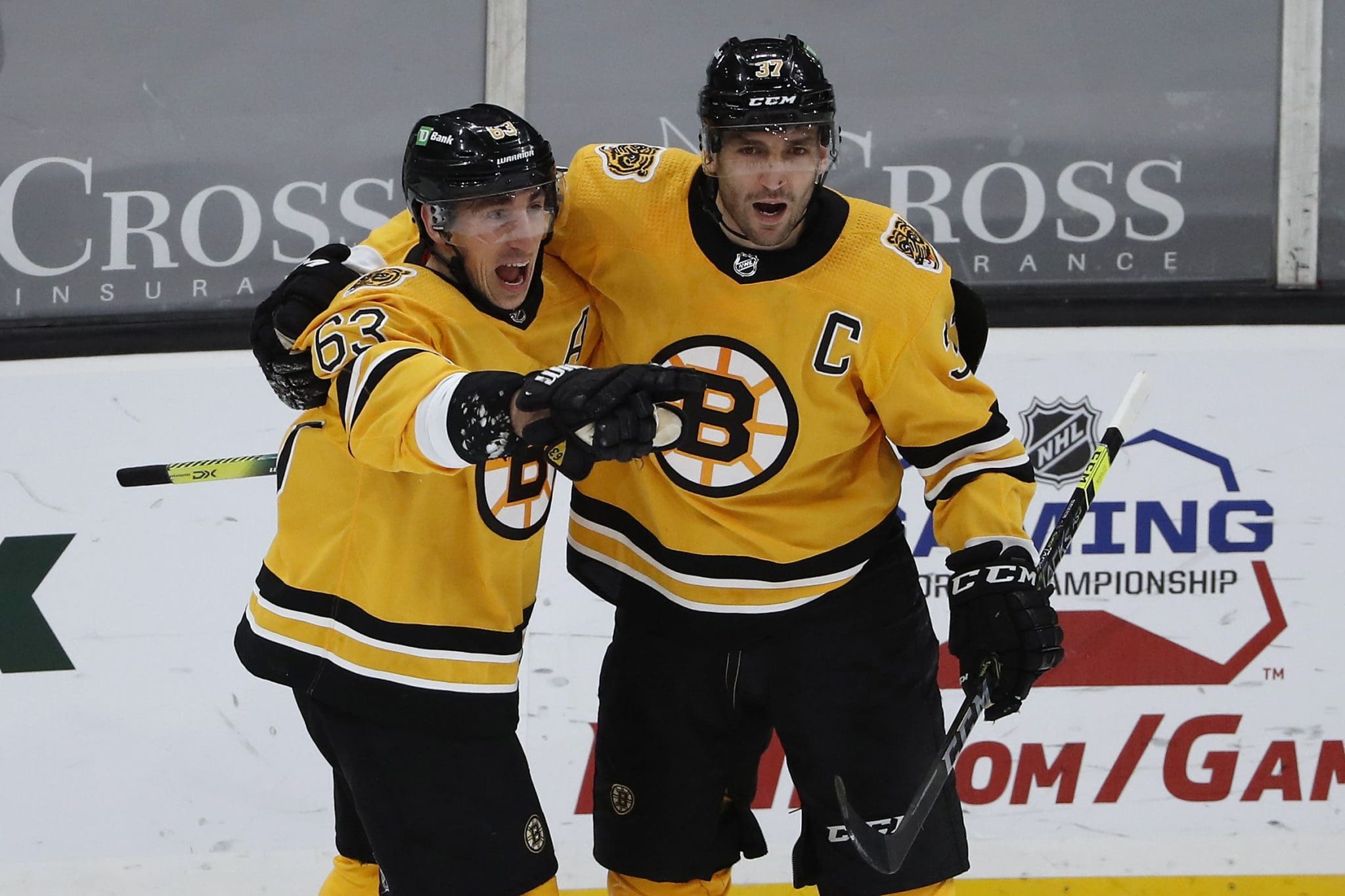 The Boston Bruins are in snooze mode now for the next few weeks while NHL general managers have retreated to their summer cottages, and players are quietly ramping things up at informal practices at NHL facilities all across North America. It's no different in Boston where NHL players like Jack Eichel, Noel Acciari, Charlie McAvoy, Matt Grzelcyk, Anders Bjork, Torey Krug, Kevin Hayes and Brad Marchand are working out together a few times per week at Warrior Ice Arena.
But the 2021-22 NHL season is beginning to feel close with puck drop times announced this week for each of the 82 games on the regular season schedule, and with training camp roughly a month away. With that in mind we've got another edition of the Hagg Bag mailbag which, as always, features real questions from real readers sent to my twitter account using the #HaggBag hash tag, real messages sent to my Facebook fan page and even the occasional email sent to me from those Boston Bruins fans out there looking to take the extra step.
Now let's crack open the bag and get to it:
Haggs
My initial reaction to the start of free agency was to be mad at GM Don Sweeney. He spent $27M of cap space and didn't acquire a single impact player; still, nobody to play with Charlie McAvoy, still no second line center. The more I thought about it, the more I realize it's not his fault. Sweeney understands that the best way to keep his job is to make this team good enough to make the playoffs and give the Jacobs family a couple of home playoff games.
Any bravery on his part that could make this team a true Cup contender also comes with the risk of missing the playoffs. The Jacobs family is not championship driven, sure they will take it, but for them the risk of missing the playoffs outweighs the potential to win a championship. So rather than go with two rookie goalies on ELCs (a huge cap advantage), he signs a goalie for 4-$20M. Rather than upgrade the defense with real top 4 players (the Bruins claim they understand that's their biggest need), it's Mike Reilly (the definition of regular season 2nd pair, playoff 3rd pair guy). Rather than Jack Eichel or Christian Dvorak, it's center by committee with a bunch of overpaid and in some case over-the-hill third liners. And don't even get me started on the possibility of bringing back Tuukka Rask, the poster child for "great regular season, will never win a title" player (I just threw up a little in my mouth).
So there will be a season, the Garden will be sold out every night and the Bruins will make the playoffs, but the end result will be the same as it was in 2018 and 2020, with Tampa beating them in 5 games (despite losing key players, Tampa still has their top 6 forwards, best defensive group in league, best goalie in league).
–Marc, Malden
JH: Wow, Marc, I'm ready to step out into traffic right now after reading that email. There's no question that there are some unanswered questions headed into the season. Is Derek Forbort capable of being a shutdown top pair defenseman with Charlie McAvoy where he'll free up McAvoy for even more puck-moving and offensive exploits? I think there's a reasonable chance of that given his defensive zone abilities and the fact he's proven he can play 20 minutes a night in this league.
Mike Reilly and Matt Grzelcyk as your second and third pair D-men is workable for me, particularly if McAvoy really steps up as the PP quarterback for that first unit now that we're two years removed from Torey Krug.
You also said they didn't do anything impact-wise while spending $27 million in cap space. They did re-sign Taylor Hall and I'd call him an impact player. So, I think you are over-exaggerating things by at least half.
I agree that the second line center spot could be a major weakness, and I do think the B's offense is going to take a step back to start next season with the playmaking Krejci no longer around. But what if 22-year-old Jack Studnicka finally shows that he's got enough NHL strength to play top-9 minutes and begins to fulfill his potential as a top-6 center at the NHL level?
I saw Studnicka skating with the NHL guys at Warrior Ice Arena last week and he looks bigger, stronger and much more like an NHL player than he did at this time last year when he was getting his first real NHL time in the Toronto bubble.
Let's revisit this at midseason and see where we're at. But I can tell you that Don Sweeney and Cam Neely want to do nothing more than put a group around Patrice Bergeron and Brad Marchand that are worthy of another Cup run. It wasn't their request that David Krejci decided to go home to the Czech Republic just when they'd found a left winger for him, or that Tuukka Rask is out of the equation while recovering from hip surgery.
The Bruins are spending to the salary cap limit, so trying to paint this as a "Jacobs doesn't care about winning" really don't hold up. You know that the playoffs are pure profit for NHL owners, right? Every NHL owner wants as many home games as possible, and that goes double for somebody that also owns the concessions, the building and everything else associated with the team.
As is usual with the Boston Bruins, they go into the season with some question marks on their NHL roster that they'll either address internally or do it at the trade deadline. If Charlie Coyle is the No. 2 center come playoff time next season for the Boston Bruins, then we can certainly revisit this discussion. But I'm willing to give the Bruins some leeway here given the relative success they've had over the last five years with this management group/coaching staff. They've earned our respect even if they've fallen short of the ultimate goal.
What do you think the Bruins consider a successful season? If they're making a legitimate run for the cup, would not winning the cup make it an unsuccessful season? #HaggBag
–Ray Guarino (@rayguarino)
JH: I think this is a "see the answer above" kind of question. The Bruins are obviously trying to win a Cup. If they weren't spending to the cap or putting together a quality team then I could understand the line of thinking that they are not "in it to win it." They are using first round picks at trade deadlines to upgrade the NHL roster when they have to, and because of that they have depleted their prospect cupboard. They wouldn't do that if they weren't going for it. There are times when they've got to make tough long term calls on players whether it was Torey Krug and Zdeno Chara last summer, or whether it was how to go about replacing David Krejci as the No. 2 center.
Part of the problem is that they are in the same division as a team that's only one of two teams to win back-to-back Cups in this century and that they clearly weren't in their league last season. The other part of the problem is that they have an NHL roster that's grown old over the last five years, so they really had to make some difficult "on the fly" decisions with the roster.
I just don't think this Bruins organization is simply "happy to be in the playoffs." And it's pretty apparent, even if they don't always make the right moves with trades or free agency.
Haggs, if Krejci retires who do you think the Boston Bruins backup plan would be at 2nd line Center?
–Myron (@Nostradamus527)
JH: Clearly the Boston Bruins already had their backup plan with Coyle after signing him to a big contract extension a few years ago that they may, or may not, come to regret in the coming years. I like Coyle for his size/strength/speed combo and he's a very good hockey player in the right role, but I just don't think he has enough consistent offensive punch to be a No. 2 center on a Stanley Cup contender.
But I also think this is a big season for Jack Studnicka's development as I mentioned previously. The Bruins have to give him an extended shot in a higher profile role at some point, and if he really has a good camp, he could push his way into a top-6 look given the current situation. I honestly think there's a better shot of Studnicka flourishing in that role than Coyle consistently holding it down, and that would answer a lot of questions for the Black and Gold entering this season.
Who makes it to the show first, Lysell or Lauko?
–Nate (@nateoBueno)
JH: Lauko. I think he could push his way into an NHL look this season, even if NHL scouts I've talked to in the past haven't been high on him developing into a top-6 forward role at the NHL level. He's got 10 goals and 28 points in 45 AHL games over the last two seasons as a guy under 21 years old. That's pretty good production. I'm going to guess that Lysell is a year or two away given his size and strength as an 18-year-old kid coming out of Sweden. It's tough to tell, though, until we get a look at him in training camp.
The best bet for Lysell is that he winds up with the Vancouver Giants in the WHL this season after signing the three-year entry level deal with the Boston Bruins. But he also has some pretty ridiculous speed and skill that could play at the NHL level sooner than later. I just think you have to be a pretty special David Pastrnak-type talent to jump straight into the NHL as a late first round pick, and Lysell may not quite be that even with these kinds of highlights to his name.
Da Damn!!#NHLBruins forward prospect Fabian Lysell with a sweet end-to-end rush for a goal.
Kids going to be a beast for #Boston in the near future. pic.twitter.com/G7RSS5Y20p

— Mark Allred (@BlackAndGold277) August 12, 2021
Would like to see Chara in some type of player development/coaching role soon
–George S (@captcobalt)
JH: I think that would be awesome if Zdeno Chara decides that's what he wants to do, but the 44-year-old hasn't even decided whether he's done playing yet. Then when he decides to retire, Chara would have to decide he wants to settle in Boston full time and devote the requisite amount of time to working in the Boston Bruins front office. Given the money he's made and the career that he's had along with his myriad interests outside of hockey, it may be that Chara doesn't want to continue to be an NHL lifer after he's done playing. We'll have to see, but certainly his leadership, his work ethic and his knowledge would be a major asset to the Bruins organization if that's what he ends up deciding to do at the end of the day.
Haggs,
The only thing stopping me from calling this offseason an abject failure by Don Sweeney is the fact that the offseason isn't over, and he still has time to make a significant trade. My question is – why should I have any faith that Sweeney is actually going to do that?
Since the Bruins returned to the playoffs in 2017 Sweeney has made one trade for a piece that would meaningfully improve this team – Rick Nash in 2018. The Bruins got burned by that one and Sweeney has been gun-shy, making half in/half out moves for B-list players, ever since. The Coyle and Johansson moves worked out, but they were classic half in/half out moves. The Ritchie and Kase moves were exactly the same. The Hall deal doesn't count because Sweeney walked away from that deal, and we only got Hall because he forced his way here. He hasn't extended himself for a free agent since 2017. The only ones he has ever extended himself for are David Backes, Matt Beleskey, and John Moore. Heck while we're on the subject, he was going to use the three first round picks in 2015 to trade up for Noah Hanifin, Zach Werenski, or Ivan Provorov but chickened out and we all know how that ended up.
I want to believe that another move is coming, but I don't. While Tampa added Ryan McDonagh, Blake Coleman, Barclay Goodrow and Pat Maroon Sweeney has repeatedly settled for players like Ondrej Kase and Marcus Johansson. The Foligno, Haula, Nosek, Forbort and Ullmark signings are all fine. But they're all b-listers none of which offset the loss of your #2 center. We are heading into a season in "win-now" mode with a team that is objectively worse at every single position;
• Ullmark is a good goalie. He's not better than Rask.
• They're bringing back the exact same top-4 and a bottom pair that is worse.
• The top-6 is obviously worse. The bottom-6 is better, but that doesn't offset getting worse literally everywhere else.
If they were to make some sort of significant move, either at forward or on D, that might offset the loss of Krejci. But this is the same the same GM who has sat on his hands and watched the last great years of the 2011 core slip away. Is there any reason to believe that this offseason will be any different? In fact, is there any reason to believe that this GM deserves to keep his job?
I've defended Sweeney through a lot. But when you lose your #2 center and are still trying to contend you need to make some sort of aggressive move. You don't replace that player by going bargain bin shopping for a lot of b-listers. Unless you're Sweeney, and it's the only thing you know how to do.
Contending teams don't handle the 2nd line center position "by committee."
-Will (via Facebook fan page)
JH: Sorry, man, but you lose me as soon as you tell me that trading for Taylor Hall doesn't count. Of course, it counts. We don't deal in your rhetorical universe. We deal in the real world where every move a GM makes, or doesn't make, still counts on their ledger.
And to rebut your bullet points:
*Jeremy Swayman could be better than Tuukka Rask next season, a fact you're discounting overlooking. I look at Linus Ullmark as an insurance policy in case Swayman falters or hits a wall but signing him was a luxury allowed because Swayman is the real deal on an entry level contract.
*Derek Forbort will be in Boston's top-4 and will end up with more ice time than Matt Grzelcyk this season. Mark that one down because it's going to happen, and Forbort will get the bulk of the time in the top pair with Charlie McAvoy. It remains to be seen if that's going be an upgrade over Jeremy Lauzon/Charlie McAvoy, but I think it definitely could be. If we learned one thing last season, it's that there's a real danger to overexposing a good player in Grzelcyk with too much ice time and too much responsibility.
*The top-6 is most definitely worse, but what happens if Studnicka develops into a top-6 center and has veteran guys in Hall and Craig Smith on either side of him? That turns the Bruins into a better, deeper team with a much better bottom-6.
Clearly the Boston Bruins are gambling a little bit that guys like Swayman and Studnicka are going to really pop this season, but you have to do that at times in the salary cap era. That's something the Tampa Bay Lightning have to do this season as well, albeit that they're doing it after winning a pair of Cups.
If this season truly turns into "No. 2 center by committee" then I will absolutely give you a big mea culpa and tell everybody that Will had it figured out back in the summer. But I don't think it's nearly as doom and gloom as you do. We shall see.
Hey Joe…any word on our other European assets…JFK, Koko, Arnesson (think that was his name)
–Mark (via email)
JH: I'm sorry, but I don't care about these guys. Honestly, this is the same as the people that were talking about Carl Soderberg forever like he was this game-changing force hiding out in Sweden. He came over here and he was a good third line center, but not somebody that could even unseat Patrice Bergeron or David Krejci. Definitely not a top-6 center on a great NHL team.
Alexander Khokhlachev had ample chances to win a job with the Boston Bruins, but he wasn't big enough or fast enough to succeed at the NHL level. He was a tweener in my opinion: An effective AHL player that wasn't big or fast enough to make the jump to the NHL level.
And I just never saw anything with JFK. He really hasn't even popped in the Swedish Elite Leagues over the last few years either. He had five goals and 13 points in 50 games last season for two different teams. Why do people still ask him JFK when he's probably not even good enough to crack the NHL roster?
This reminds me of years ago when all the NHL teams were lining up as suitors for Jimmy Vesey, including the Boston Bruins trying to woo the Harvard kid to sign with the Bruins. There were breathless reports about how good he was as a player, and that he would make an impact at the NHL level. Then I remember asking David Krejci about the "Vesey Sweepstakes" and he kind of rolled his eyes and wondered why there was so much fuss about a player that hadn't even proven he could play at the NHL level.
Krejci was absolutely right looking back at hindsight with the knowledge that Vesey has been an average NHL player that's played on four teams and never scored even as much as 20 goals or 40 points in an NHL season. There's really no reason to carry torches for players like Koko or JFK that wouldn't even be impact players for the Bruins even if they were in Boston.
Why don't players sign for a percentage of the cap instead of a hard figure? Wouldn't it be easier for the GM to figure out cap usage? Also, would incentivize all players to help expand the league to up the revenue and help raise the cap even more.
–David Simpson (via Facebook page)
JH: Why would players agree to sign for a percentage of the salary cap that can potentially go way down, or go flat as it's going to be for the next few seasons due to the economic ramifications of COVID-19? As it is, their salaries are already tied to league revenue escrow that goes up and down dependent on how the NHL is doing as a business.
Even as there is harmony on the current CBA with no end in sight, there is way too much general mistrust between the NHL and NHLPA for the players to blindly attach their salaries to the league's calculation on profits. The players are already motivated to create robust league revenues based on the escrow issue tied to their own salaries, but wholly attaching their own salaries to NHL revenues just isn't something any player, or agent, would ever be on board with anytime soon.
They certainly wouldn't do it to make the GM's job easier when it comes to figuring out the salary cap. That is why people like Boston Bruins assistant GM Evan Gold are part of NHL management teams to figure out the ins and outs of the salary cap, and how best to navigate it.