BHN Exclusive: Bruins, McAvoy Plan To Get Serious This Week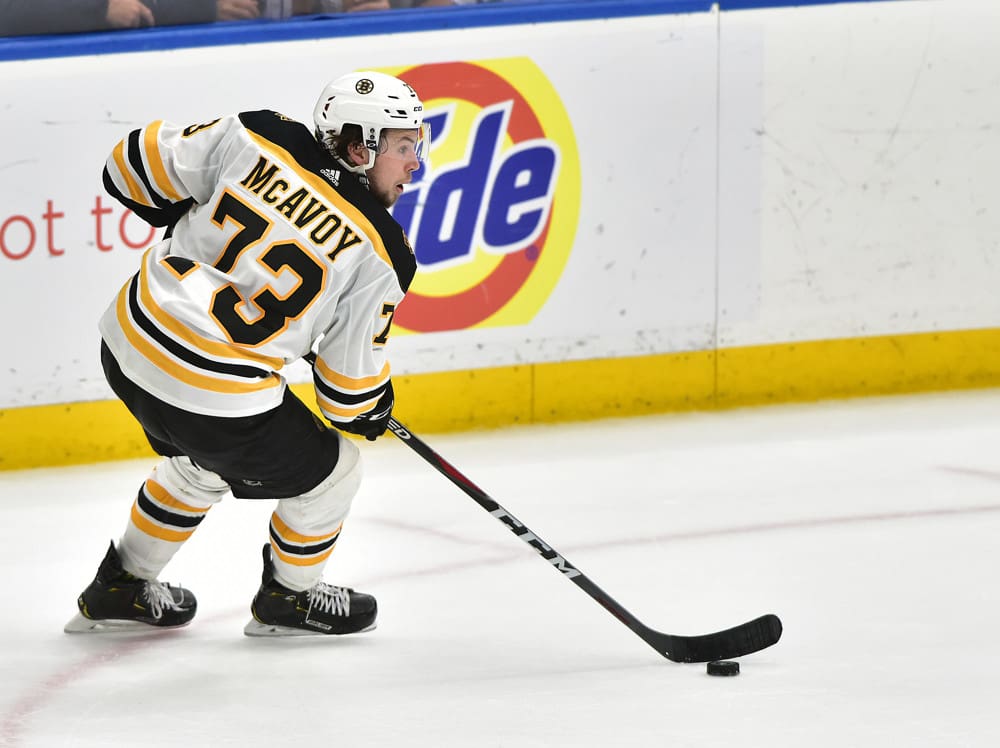 Will the Boston Bruins and unsigned restricted free agent defenseman Charlie McAvoy finally find common ground and strike a deal this week?
According to sources close to the situation, McAvoy and his camp are set to return to talks with the Bruins "in earnest." Both sides agreed to breathe and enjoy the final days of their shortened summer and Labor Day weekend. With training camp and a new season bearing down on both sides, there is increased urgency to get a deal done.
"Both sides have been hammering away but a point was reached where you just need to step back and regroup," the source told Boston Hockey Now Sunday morning. "Like it has been with most of the unsigned RFA's for the last week or two, it was the same with him and the Bruins. Everyone wants to hammer this out and get a deal done."
In the past, the Bruins have made a habit of announcing new contracts at their annual golf tournament before training camp starts and with the tournament set for September 9, both sides seem ready to avoid any distractions when the team takes the ice on September 12 to start camp.
The 21-year-old defenseman just finished his entry-level contract in which he made an AAV of $1.2 million and carried a cap hit of $916,667. In February, reports suggested McAvoy turned down a long-term extension because he was looking for a contract similar to that of Florida Panthers defenseman Aaron Ekblad. The Florida Panthers defenseman signed an eight-year, $60 million contract extension with a cap hit of $7.5 million which began in the 2017-18 season.
It's been widely believed the Bruins were offering more in the range of a $5-5.5 million cap hit per season. However, thanks to the team's current salary cap crunch and the fact that they still must sign fellow RFA defenseman Brandon Carlo, a bridge deal has been discussed more this past offseason. 
Word is now that both McAvoy and the Boston Bruins have now made it clear to each other that after Labor Day and as early as this Tuesday, they will start to have more extensive discussions and it's reached the point where if they have to, they will lock themselves in a room and try to resolve the matter before training camp begins. McAvoy made it clear to BHN in early August that he was ready for a deal to be struck.
"It would be nice," said McAvoy, who remained in Boston this summer and worked out at Boston University with teammate Matt Grzelcyk. "Once it gets done, you can carry on with what you're doing."
McAvoy Comparables
According to the same source above, there were some talks since then, but nothing that really found common ground in terms of numbers. BHN has been told parties are keeping an eye on Columbus Blue Jackets RFA defenseman Zach Werenski, who is rumored to be working on a bridge deal worth just under $6 million per season.
The problem with the Werenski comparable is that McAvoy has been hampered by injuries and only played in 117 of a possible 164 games in his first two NHL regular seasons while Werenski has played 237 of a possible 246 in his first three seasons. McAvoy, of course, had no regular-season games in the first year of his contract, as he made his NHL debut in the first round of the 2017 Stanley Cup playoffs and burned the first year of his ELC. McAvoy has 14 goals and 46 assists through two full NHL regular seasons and three goals and 13 assists in 41 career playoff games. Weremski has 38 goals and 90 assists in his first three regular seasons and three goals and seven assists in 19 playoff games.
Still, the positive from every conversation between McAvoy's camp and the Bruins have been the mutual desire for McAvoy to remain in Black and Gold for a long time to come. The hope now is that the two sides can transform that into a contract and do so before training camp begins a week from Thursday.
The Bruins would also love to extend veteran defenseman Torey Krug past next July 1 when he can become an unrestricted free agent, but as of August 20, things were quiet on that front.