Haggs: The Rask Boston Bruins Legacy Is A Complicated One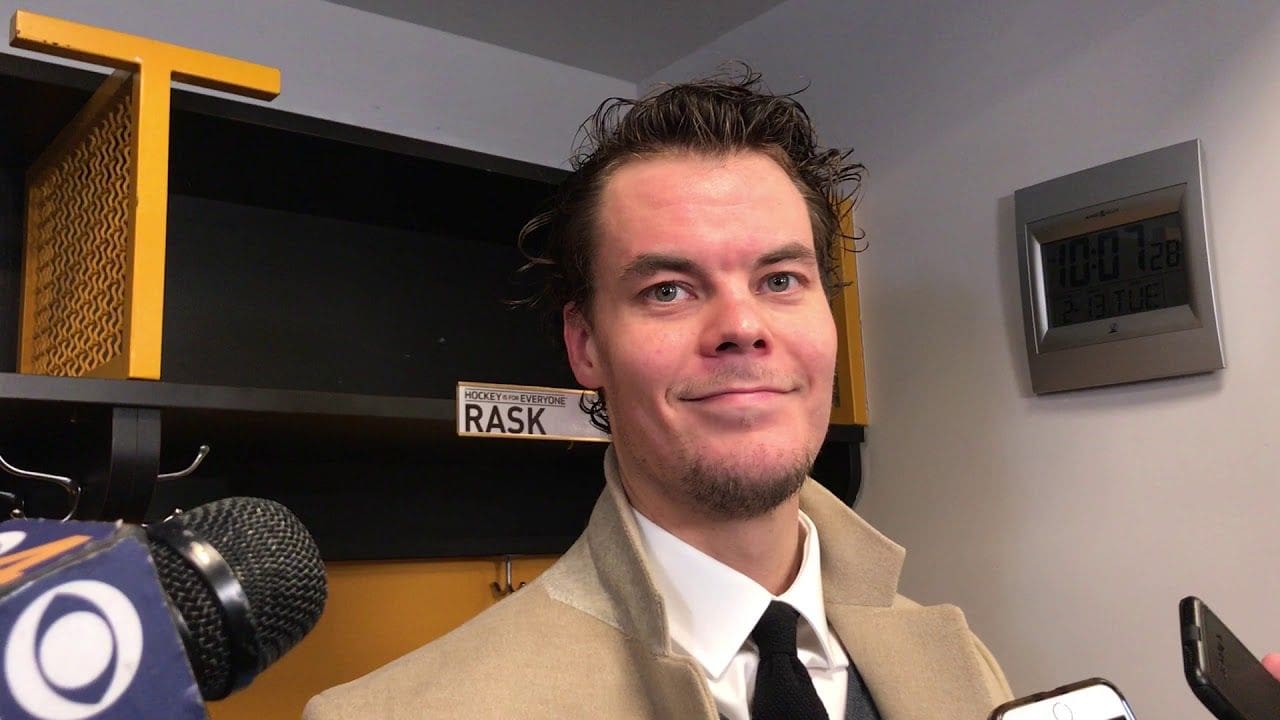 There will always be pointed questions and heated conversations about the legacy of Boston Bruins goaltender Tuukka Rask now that it's over after a 15-year run in Boston.
Polarizing doesn't even begin to describe the dialogue around the Boston Bruins goalie.
On the one hand, Rask was unquestionably the greatest goaltender in Boston Bruins history with the 308 career wins, a .921 career save percentage that's fourth all-time in NHL history and a career .925 save percentage in the Stanley Cup playoffs that's in the top-10 all-time in league history. There have been high moments like his Vezina Trophy season in 2013, the dominant sweep of the Penguins in the playoffs when Rask stood on his head and the entire 2019 Stanley Cup playoff run right up until that final Game 7 against the St. Louis Blues.
There was always much more good than bad in his career with the Bruins and he was inarguably the best ever for a franchise that had gone through scores of goaltenders over the years until they settled into a 20-year groove with Tim Thomas and Rask.
That's why Wednesday's retirement announcement for Rask was a sobering moment for Boston Bruins fans. Though both Linus Ullmark and Jeremy Swayman have looked up to the task at times this season, there will no longer be an option that the 34-year-old Rask might swoop in to save the day during the postseason.
"Today is a day that I hoped would never come," wrote Rask in a post on the Boston Bruins twitter account. "But now that it's here, I feel I owe it to everyone to hear it from me. When I made the decision to have surgery on my hip last summer, I did so knowing that the road to recovery would be challenging. I also knew it was something I would have to do if I wanted to give myself a chance to play my best hockey again.
"The rehab, the workouts, the practices — all of it was with the intention of getting back to where I needed to be to help my teammates win games and make another run at the Stanley Cup. Over these last few weeks, I've realized that my body is not responding the way it needs to for me to play at the level I expect of myself and that my teammates and Bruins fans deserve. Therefore, it is with a heavy heart that I announce my retirement from the game of hockey."
Someday in the future Rask will undoubtedly have his No. 40 raised to the rafters at TD Garden and his place in Boston Bruins history is secure.
Thank you, Tuukka. 👏 pic.twitter.com/SLCBvu7dKr

— Boston Bruins (@NHLBruins) February 9, 2022
But there's also a nagging feeling that Rask could have been even more with just a few more stellar performances when everything was on the line for him and his team.
He finished with two Stanley Cup Final appearances, one Vezina Trophy, two All-Star appearances and one bronze medal with Team Finland at the Olympics. Some have tried to compare Rask to Henrik Lundqvist in terms of a Hall of Fame-level goaltender that was never able to lead his team to a Stanley Cup, but Rask's resume isn't quite at King Henrik's level for sheer career accomplishments.
Hank was a Vezina Finalist five different times and finished in the top-5 seven times in his career, which is a clear indicator of dominance within an era. Rask was a Vezina finalist twice and only finished top-5 in the voting in each of years as well.
So there clearly some elite seasons for Rask and he was consistently good during a long run in Boston.
But there were also the two goals allowed in 17 second against the Chicago Blackhawks in Game 6 of the 2013 Stanley Cup Final that suddenly, surprisingly eliminated the Boston Bruins.
There was a dud of a Game 7 performance against the St. Louis Blues when he was outplayed by Jordan Binnington on the TD Garden ice. There were big moments for the Boston Bruins when Rask couldn't play for different reasons and then there was last postseason when he insisted on playing against the Islanders when the hip injury was clearly affecting his performance.
Rask had his detractors and there was ammunition for them to go on, but it was always difficult to argue against the pure, inarguable numbers that Rask posted year in, year out for over a decade between the Boston pipes. The longevity and the consistency for a goalie in a Boston Bruins uniform is something that we may not ever see again.
"While I am sad to say goodbye to the game I love, I am so very thankful to have shared these last 15 years with the greatest teammates and fans in the best sports city in the world," Rask added in his statement. "We have shared so many special memories over the years — bringing the Cup back to Boston in 2011, our runs to the Final in 2013 and 2019, playing overseas in the Czech Republic, Northern Ireland and China, and of course the Winter Classics. I am also so thankful that I was able to represent Finland on the world stage and win a bronze medal in the 2014 Olympics.
"While these experiences were all incredible, what I will remember most about all of them is the bond I had with my teammates, coaches and team staffs, the memories that we will always have, and the friendships that will last a lifetime.
"Through all the ups and downs, I am so grateful for all the support this team and the people of Boston have given me. I will miss everything that comes with representing the Boston Bruins. But now, I am excited to spend more time with my family and friends who never stopped supporting my dream. Boston is special for so many reasons and will always be our adopted home. We look forward to remaining a part of this amazing community.
"I especially want to thank the Jacobs' family, Cam Neely, Don Sweeney, my coaches, the equipment staff and the rest of the team support staff for all they have done for me throughout my time with the Bruins organization. I've never wanted to play for any other team. I'm so proud to have worn the Spoked-B for my entire career and wouldn't have it any other way."
Rask will probably go down as one of the most underrated stars in Boston sports history given his numbers and where they stack up within the Boston Bruins franchise. It may have more to do with the position he played than anything else where goalies often get blame they don't deserve, and sometimes don't get the credit they should when they're consistently good with technique and positioning.
But at least Rask is getting his just due now on an excellent Boston Bruins body of work that was well done, and by having the good judgement to call it a career when any future performance just wasn't going to be up to his standard of excellence.