Are The Bruins And McAvoy As Close As We Think?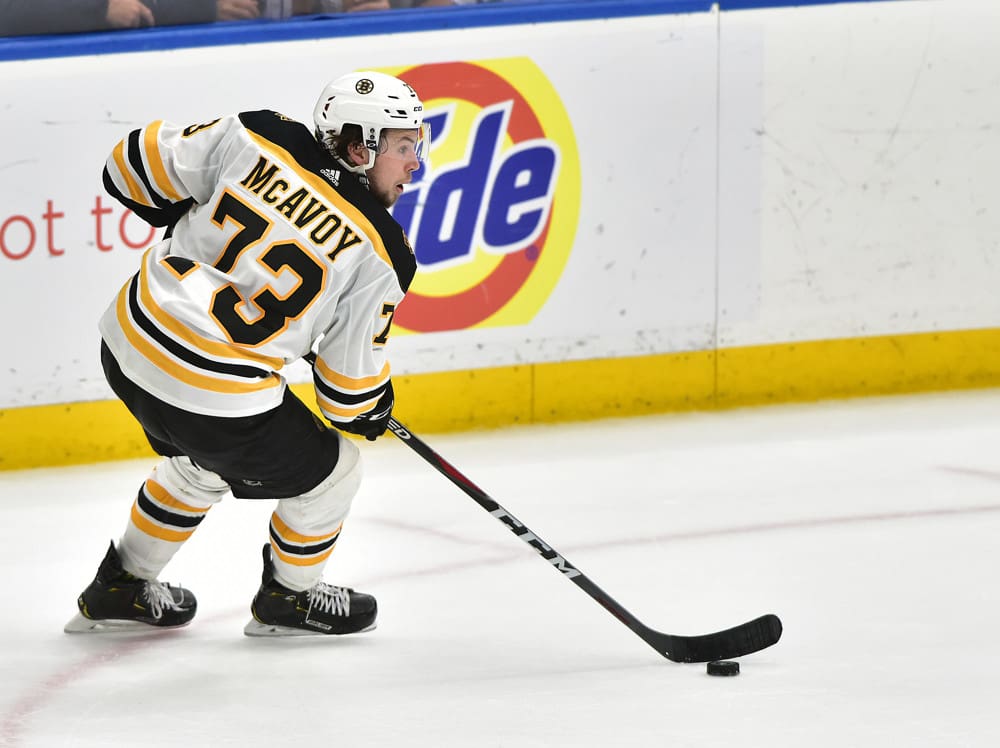 Are the Boston Bruins really that close on a contract extension for defenseman Charlie McAvoy?
On Wednesday, Boston Bruins President Cam Neely dropped a newsworthy nugget with the media on McAvoy contract talks that immediately got downplayed by Bruins general manager Don Sweeney.
"Don [Sweeney] and [Bruins assistant GM] Evan [Gold] have been working with Charlie's camp the last couple of days, so my hopes are that we'll see something in short order," Neely said during a zoom call with the Bruins media on Wednesday. "But you never know until it's signed on the dotted line."
When asked about Neely's assessment of contract talks between the Boston Bruins and McAvoy, Sweeney acknowledged them but made sure to note that 'nothing was imminent' and pivoted away from the specifics of the current state of negotiations. That prompted yours truly to look further into the situation and I tweeted this shortly after my BHN partner-in-crime Joe Haggerty, wrote the news update on the McAvoy negotiations.
Based on what I'm hearing right now, I'd say this gets done by Friday. Likely 8×9-9.5. https://t.co/RgmtSZ5fyr

— MurphysLaw74 (@MurphysLaw74) October 13, 2021
Well, let's just say, I'm pulling out an advance mulligan on that predicted timeframe but I do believe wholeheartedly the years and numbers are close. Per an NHL executive with knowledge of McAvoy negotiations as of 8:30 PM ET on Thursday night:
"You're dead on with the contract but not sure it happens just yet."
Was it the [Ryan] Pulock contract? Couldn't be given the age difference and compared stats and analytics, right?
"Yes, but let me just tell you that any and every extension a d-man under 27 signs right now, does play a role," the same source said. "Right or wrong, they all play role in leverage. I mean, I know for a fact that the d-man market has driven so many GM's nuts and it's because even if it's apples and oranges, agents are using any little comparable they can dig up. It's not just changing on a daily basis but an hourly sliding scale man!"
Note: Pulock signed with the New York Islanders for eight years, $50 million late Wednesday night.
That goes in line with what Sportsnet NHL insider Elliotte Friedman said regarding the McAvoy contract talks on the Jeff Marek Show on Thursday:
"Here's what I heard then: I heard that the Bruins and McAvoy were talking about an eight-year deal and someone guessed to me – and I stress that this was a guestimate and not to be taken as gospel – was that it was going to be higher than [Zach] Werenski's number which was $9.5 million-plus. Now I think that – and first of all, the guy deserves every penny – I had push back on not so much the numbers, but I had pushback on how close it was. So, I kind of just said, you know what? I don't want to third rail myself here; I don't want to electrocute myself in the public sphere. So I played it safe.
Now Neely kind of opened up the door to us. …I think there's still some conversations that need to be had. It sounds to me like they've got the framework of a deal and they just gotta figure out how it's all going to work, but if it does turn out to be eight years. …I don't know that it. …I think it's going to be less than ten, I don't know that I think so, but I think it's going to be a very big number."
Note: Werenski signed for six years, $57.5 million with the Columbus Blue Jackets on July 30.
So when will the Boston Bruins actually lock up McAvoy?
I would agree with Neely's assessment that it will occur in 'short order' but maybe not as short as he thought. The good thing for Neely and Sweeney though, is that, while the recent string of McAvoy comparables hit paydirt, there are basically none left that could alter the progress the Bruins and the McAvoy camp have made already.