Charlie McAvoy Not Worried About Lack Of Extension Talks With Bruins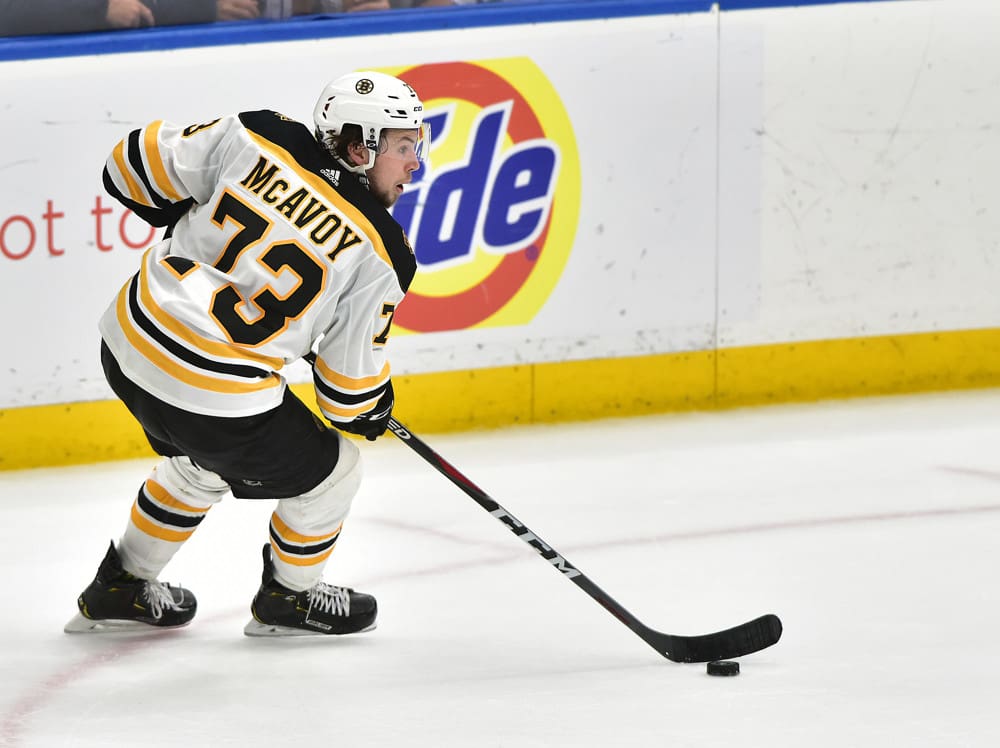 Boston Bruins defenseman Charlie McAvoy knows that whether he signs a bridge contract extension before July 1, 2022, or a long-term extension with the Bruins, he's going to get a hefty pay raise. He's excited to be a member of the Boston Bruins and has repeatedly expressed optimism that will continue well beyond this season, the final one on a three-year bridge contract that carries a $4.9 million cap hit. 
McAvoy has been eligible for a contract extension since July 28 but despite the lack of contract talks with the Bruins to this point, the 23-year-old rearguard is more focused on training camp and forming chemistry with his new teammates. 
"Honestly, I don't have any comment on it," McAvoy told the Boston Globe on August 26 at the Ray Bourque Foundation golf tournament in Stratham, N.H. "I'm just really excited for the year, just worrying about this summer, being in the best spot to get ready for camp. I think we're going to have a heck of a team. I can't wait to meet the new guys. I just want to get after it."
In a separate interview with the Globe, McAvoy's agent Rick Curran expressed the same sentiment and didn't seem overly concerned about the lack of contract talks between him and Boston Bruins general manager Don Sweeney thus far.
"For Charlie, it's all about focusing on the season," Curran told the Globe. "He wants to go out and have a really good season, and focus on what he can do for the team, really solidify himself as a top D-man in the league. "He wants to control what he can control," Curran said, "and let the chips fall where they may."
Ironically, just over a month before McAvoy and other local hockey celebrities teed it up at Bourque's tournament, Bourque's former teammate and Boston Bruins team president Cam Neely was comparing the young McAvoy to the hall of fame defenseman.
"The amount of minutes Charlie can play is…Ray was a horse out there. I remember watching him one time, he had a long shift and came to the bench, took two deep breaths, and was ready to go," Neely told the media when asked to make comparisons between former Hall of Fame teammate Ray Bourque and McAvoy back on July 25. "McAvoy is similar in that regard, where he can play a lot of minutes at a high level. That's a similarity I see right now. Charlie's developing a little bit more on the offensive blue line; Ray had that natural ability I think right from the get-go, that Charlie's certainly come a long way [in that area]."
As colleague Joe Haggerty noted that same day, with the recent contracts being handed out to similar NHL defensemen this past offseason, the Boston Bruins are going to have to open up the Brinks truck to lock up McAvoy and prevent him from hitting the unrestricted free agent market in 2024 or beyond. 
From Haggs in that same BHN Post with Neely comparing McAvoy to Bourque:
"A big raise became even more of a reality with the new contracts for a trio of No. 1 defensemen in Seth Jones (8-year, $76 million), Miro Heskainen (8-year, $67.6 million) and Cale Makar (6-year, $54 million) over the last few days. That's slotting McAvoy into a long-term contract that's going to pay him between $8.5-9.5 million per season provided he remains healthy and continues his development into a dominant No. 1 D-man with another Norris-worthy season next year.
Obviously, the Bruins and McAvoy knew it was headed this way when they paid him a base salary of $7.3 million for the upcoming 2021-22 regular season his current 3-year, $14.7 million bridge contract."
If the Bruins don't extend McAvoy before next July 1, they will have to qualify him at $7.3 million, but it's highly likely that won't need to happen and the expectation here is that McAvoy will be locked up well before that.