Could Rask Cost The Bruins Only $250,000 And Endless Bud Lights?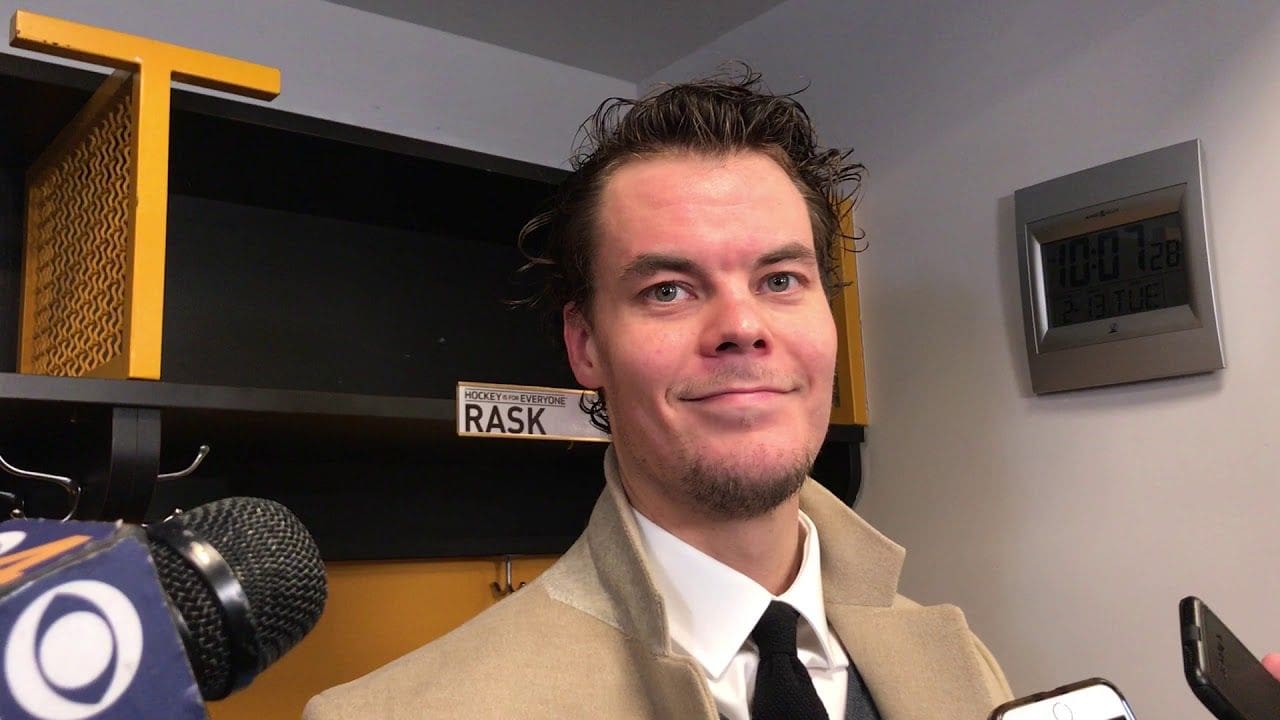 If the Boston Bruins want to bring Tuukka Rask back this season it won't cost them that much against the cap and definitely not close to the $7 million per season they paid Rask for the last seven seasons. Speaking on The Greg Hill Show during the WEEI/NESN Jimmy Fund Radiothon, the 34-year-old unrestricted free agent goalie joked that he may even be willing to play under the league minimum of $750,000 if free Bud Lights were part of his new contract with the Bruins.
"Yeah exactly, and free bud lights!" Rask quipped when asked by host Greg Hill if he'd take $250,00 to come back and play for the Bruins roughly halfway through the 2021-22 regular season. 
All kidding aside, Rask once again made it clear that to him it's either playing for the Boston Bruins again or retirement. After playing for only the Bruins his entire career, Rask is intent on retiring a Bruin.
"I think, I played on one team when I was in Finland and I've been so lucky to be part of one team in the NHL," Rask said. "For me, it's about that pride of playing for one team and one team only. I have no reason to chase the money anymore and go somewhere else. I feel the Bruins are my home, Boston is my home and I've always wanted to play here, wanted to stay here. The money won't be an issue.
We had a conversation with 'Sweens' [Bruins GM Don Sweeney] and I said I'd be a cheap goalie. I'm not looking for a $7 million contract anymore, I'm at the end of my career. I'd just like to help the team out. I feel like I'm a veteran goalie and there's some young guys coming in, so whatever I can do to help the guys out, I would do it and end my career as a Bruin."
Speaking of young guys, Rask is hoping he can become a true mentor to 22-year-old Boston Bruins rookie goalie Jeremy Swayman.
"Well, he's a great goalie; a talented goalie and a great guy like you probably saw," Rask said when asked about the potential heir apparent to the Boston Bruins starting goalie throne Rask has occupied since the 2013 season. "He's super outgoing and nice. So, I had the luxury of knowing him last year a little bit when he was around, and he's got a great future ahead of him. Like I said, hopefully, I can help him out."
In addition to wanting to retire a Bruin helping with the future of the Boston Bruins reaffirmed his and the team's belief that the remaining 2011 Stanley Cup Champions on the Bruins roster have one more Cup run in them. Rask would rather win a second Stanley Cup with Patrice Bergeron and Brad Marchand, than with another team.
"There's a few guys now, like 'Bergy' and 'Marchy', well, 'Krech' is in Czech now but we've played our entire careers together and I feel like it would be a shame to try and chase something dollar-wise or trophy-wise when you have a chance to finish your career with the same group that you started with," Rask said. "Then you look at the additions that the Bruins signed, it looks like a really capable team again so I'm looking forward to that again."
As for when he may be able to sign with the Boston Bruins again and start playing, Rask is cautiously aiming for a late December/January return.
"I'd be ready to go probably around Christmas time/January," Rask said. So hopefully I can start skating here in about a month and a half or so and then kind of progress from there and be ready to go in January. I haven't done anything yet. Still two to three weeks away from actually working out."
For the next three to four months, Rask plans to focus on his rehab both physically and mentally.
'I don't think I'll even watch, to be honest," Rask replied with a chuckle when asked if he'd be glued t the TV watching the team he hopes to sign with again. "Just to try and keep sane until I'm out there. But hopefully, when I start skating, we'll see how it feels and if it feels good, I'll be back playing sometime soon, but if I feel bad and 'I'm like I don't know if I can do this, then it might be difficult. As long as I know I'm feeling great and I'll be out there, then it won't be an issue."