Hagg Bag: Plenty of Boston Bruins Talk Ahead of Expansion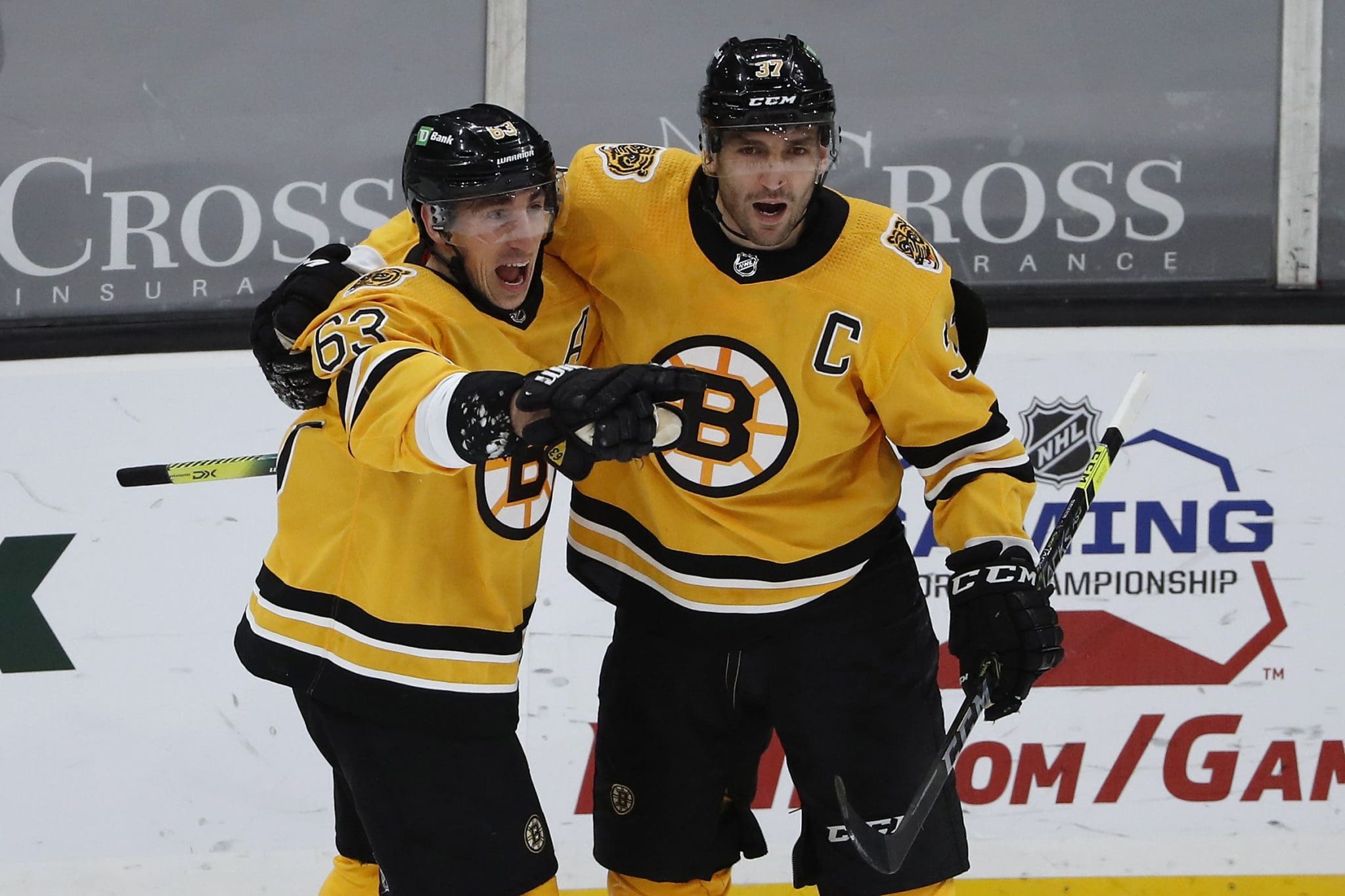 The NHL season on the ice is over and done with, but the action is still coming fast and furiously for the soon-to-be 32 hockey clubs around the National Hockey League, including the Boston Bruins. The NHL Expansion Draft is immediately forthcoming for the Seattle Kraken and the NHL Draft is set for this weekend with NHL free agency to follow next week.
It honestly feels as if everything is happening all at once in terms of the NHL offseason, even more than normally so, and the Bruins are right in the middle of it with over $20 million in salary cap space and several prominent free agents coming up for contracts. Will they be in the mix for some of the big name transactions anticipated at the expansion draft like Vladimir Tarasenko, or ready to hit the trade and free agent market when names like Connor Garland and Ryan Suter get settled over the next couple of weeks?
As always there are high expectations for what the Boston Bruins can pull off this offseason, but it all starts in the coming days with pushing to re-sign their own free agents David Krejci and Taylor Hall before making alternate plans. What happens beyond that will be built off getting certainty with the players very much still in Boston's plans for next season and beyond, but there are still many moving parts with the Bruins this offseason.
So, let's answer some of those questions in a new edition of the Hagg Bag mailbag. As always, these are real Boston Bruins, NHL and Marvel Cinematic Universe questions from real Bruins fans sent to my twitter account using the #HaggBag hash tag, and messages sent to my Facebook fan page.
Now let's crack open the bag:
What are the odds that a Loki variant gets dropped into the main MCU timeline?
Also, any guess as to maybe who the Bs get for a couple D-men? Hopefully a bruiser and a puck mover. Thanks Joe.
–Eric Urbon (via Facebook fan page)
JH: I would love for Classic Loki to have been dropped into the MCU timeline, but something tells me we will see Kid Loki at some point in the future. It feels like the wheels are already in motion for a Young Avengers group down the line, so that would make sense if that's the ultimate plan 5-10 years from now in the MCU's next phase.
Who knows? Maybe Tom Hiddleston manages to get his Loki back into the MCU in some way, shape or form. After all part of the Loki character is survival and Hiddleston seems willing and enthusiastic about playing this character for as long as possible.
As far as the defensemen picture goes for the Boston Bruins, Ryan Suter would be the perfect fit as a possible top pair partner with Charlie McAvoy that can skate, defense and still play in all situations while playing big minutes. Sure, he's 36 years old but he seems like he's got something left in the tank that Zdeno Chara kind of didn't in his last few seasons with the Bruins.
But I also get the sense that Suter isn't really an East Coast guy and that playing for St. Louis or Colorado is going to be more appealing to him and his family. Beyond him, I think Jamie Oleksiak would have been a good candidate to be the bruiser-type that the Bruins need at this point with Kevan Miller now out of the picture. He's not a brawler by any means, but he's 6-foot-7, 255 pounds and he dropped the gloves with Pat Maroon, Kyle Clifford and Nic Deslauriers among others last season.
So, he's not afraid to step up when the bell rings and he played a career-high 20:29 of ice time per game last season for the Stars, which was a significant uptick from his past seasons with Dallas and Pittsburgh. Unfortunately, it sounds like Seattle is going to deep into free agency early and take Oleksiak off the board.
What do we get first? -Mephisto -Kang -a top 4 LH D-man -an actual NHL offer sheet
–Tim Morrison (@TJ_TMorrison23)
JH: I think we all know the answer is Kang even if "technically" that might have been Immortus that we got in the final episode of Loki. That opens the way for variants of Kang throughout Phase 4 of the MCU, which is pretty cool. Actual offer sheets for NHL defensemen, or anybody for that matter, are less based in reality than He Who Remains.
I'm assuming we will see some evidence of Mephisto in the Dr. Strange sequel, but who knows at this point? Maybe some of the breadcrumbs along the way will eventually lead that way, but it's hard to tell at this point.
Obviously, they should be interested, but do you think it's realistic that the Boston Bruins to make a strong push for Conor Garland? #HaggBag
–Jack Tweeddale (@jack_tweeddale)
JH: Yes, I think it's realistic. So much depends on what happens with Taylor Hall and David Krejci and who gets selected in the expansion draft, but Garland checks many of the boxes for the Bruins even if he isn't the biggest NHL body around along the walls.
Garland is feisty, productive and he's a local guy, and the Bruins always love those kinds of players. He's essentially played two season's worth of NHL games (164) and grades out to 20 goals and 50 points per 82 games while just hitting the best portion of his career at 25 years old. I'd much rather invest assets and money into Garland in his mid-20's than some of the other big name NHL players expected to move around the expansion draft and this weekend's NHL Draft.
Certainly, I like Garland more as a possible right wing with Hall and Krejci than I do Vladimir Tarasenko, who emits a warning signal with his shoulder issues and with the kind of player that he is. I think there are genuine concerns about whether he would fit in with Boston's two-way play and team-first concept, and those are fair even if he's a proven 30-goal scorer and Stanley Cup winner that's just approaching his 30's.
Joe what do you think about the voters giving Adam fox the Norris trophy in only his second season? More importantly the fact that it puts him in such RARE AIR with the greatest ever Bobby Orr.
I, for one, am offended.
–Mike Sullivan (via Facebook fan page)
JH: LOL. I'm not offended. The Norris has become an award that recognizes and celebrates offensive defenseman rather than the best all-around defensemen in most cases. Let's be honest here: Victor Hedman is the best defenseman in the world and should probably win the Norris Trophy as a result each and every season. He does everything well and he's a huge impact player for the best team in the league.
But did Hedman have the best season of any NHL defensemen in 2021? Probably not. I'll admit I was surprised when I really pored over Adam Fox's candidacy. He killed penalties, he blocked tons of shots and he played a pretty good two-way game while playing 24 plus minutes a night and finishing with 47 points in 55 games. He was surprisingly low in the hits department for a defenseman, but that may have been a byproduct of Fox having the puck on his stick quite a bit.
Fox was worthy and he wasn't just an offensive guy.
I didn't have a vote for the NHL Awards this season due to the divisional realignment unique to COVID restrictions, so I don't have a ballot to produce. But I'm not sure I would have put Fox first on my ballot. It might have been Kris Letang or Darnell Nurse instead, but Fox certainly would have been in my top 5. So, am I offended? No. As far as Charlie McAvoy goes, he'll get his shot in the next few seasons if he continues to improve and grow while the Bruins build a more seasoned, well-balanced group of defensemen around him.
#haggbag I don't buy all the rumors that Hall will likey go to market and sign with another team. Neely clearly loves Hall and won't let him get away. With that said how soon after the expansion draft would you expect a deal announced for Hall & Krejci?
–John Hersey (@Neely82010)
JH: I don't buy it either. I think Taylor Hall and the Bruins were in a natural holding pattern until after the NHL Expansion Draft, but things will get done in short order once they get through expansion. Hall wants to be in Boston and the Bruins want him here. I don't know if Cam Neely clearly "loves him" or not and I do think the Bruins wanted to see how he fit in with the rest of the group after he was traded here, but he's a very good fit for that second line and a playmaking center like David Krejci.
And one would think he's only going to get better as he gets more comfortable with his surroundings, his teammates and the coaching staff.
Honestly, you'd really have to question exactly what's going on in Hall's head, or what he's being advised of, if he decided to go anywhere else aside from a player where he found a home and should be in a very competitive situation for the foreseeable future.
I'd mark Hall down for something in the 3-4 year range for $5.5-6 million per season. I don't see him topping Brad Marchand's $6.125 million AAV and that's really where the line is for Hall signing a fair, team-friendly deal that's become the way of life with the Black and Gold.
What do you think it would take in return to Seattle for them to draft Tarasenko for us?
–Daniel Lussier (via Facebook fan page)
JH: I'll be honest. I just don't see it. They'd probably have to engineer a three-way deal where Seattle picks up some of the salary, and if that happens then I'm sure the Kraken would be looking for a high-grade prospect or a valuable draft pick in exchange. I just get the feeling that Tarasenko is going to end up with Lou Lamoriello and the New York Islanders in some kind of funky three-team trade where Lou ends up looking like a Red Auerbach/Bill Belichick-style genius that's ahead of the curve.
Hi Joe!  Was just wondering if we'll look at trading for Milan Lucic on the 3rd or 4th line
winger?  We need to beef up this year!
Thanks
–Tony
JH: I would love to have another go-around for Lucic with the Bruins. He's one of those players that you feel like is always going to be a Boston Bruins player at heart, and he was still good enough at 33 years old to pop in 10 goals and 23 points in 56 games last season while still being one of the toughest players in the league.
Lucic is exactly the kind of tough guy/sheriff that the Bruins will need in their lineup with Kevan Miller now retired, and I can't imagine the cost would be all that high with an underachieving Calgary Flames team that looks like they want to shake things up a bit. The argument against it would be that you have an up-and-coming Lucic type with Trent Frederic that you wouldn't want to get blocked by Lucic, but I think you can never have enough fire-breathing toughness in a Bruins uniform.
If the Bruins somehow lost Nick Ritchie in the expansion draft, then I'd say the chances go way up on something like this happening, but these are the kinds of players the Bruins should be taking a long look at this offseason. Kevan Miller's toughness needs to be replaced and they may not be able to find that kind of player on the back end.
Beyond that, I think the fourth line is going to have big time makeover this season with Sean Kuraly expected to leave in free agency and Chris Wagner coming off a season that wasn't his best. Could Looch Part II address some of that?
Can the Boston Bruins make this type of trade: Tell Seattle to pick Dunn and trade them Ritchie (their "pick") and whatever else it takes?
–Walruz73 (@VikingWally)
JH: Why would Seattle do all of that when they could just take Vince Dunn and Nick Ritchie in the expansion draft if they wanted without giving up anything in trade? I think Dunn is a good player, but the Bruins might be looking at somebody a little heavier and more of a two-way guy as their left-shot defenseman acquisition this offseason.
Hello Mr Haggerty:
I wanted to see what you thought about the Boston Bruins signing restricted free agent Taylor Raddysh.
What's to like: high round draft pick, good size/skills, excelled at high level international hockey, only 23, has been developing in the AHL and is now better than a point a game player, has been buried on a deep Tampa Bay team and is primed to break out. Also, the Bruins can get him without give up any compensation if they sign him for $1.3 million or a little less, which is likely too high for cash strapped Tampa.
–Lindsay Rice (via Comments)
JH: I suspect he's going to get his shot with Tampa this coming season as salary cap issues and the expansion draft are going to wipe away their forward depth. But it looks like Raddysh had a very good AHL season last year for the Crunch and that it's only a matter of time before he gets his look at the NHL level at 23 years old. My goodness, it is amazing how much depth that Tampa Bay Lightning organization has based on great drafting, development and amateur free agent signings.
There are a lot of other organizations around the NHL that should be taking notes about how it's done in Tampa Bay. It's certainly no coincidence they are back-to-back Stanley Cup champs whether you think there were salary cap shenanigans or not.
I just don't think the Bruins, or any other NHL team for that matter, is going to stir up the offer sheet hornet's nest unless it's going to be for a proven impact player. It's boring, but it's reality with these 32 NHL general managers.
Hey Haggs,
With a very real chance that 46 (UFA, Czech bound?), 71 (UFA), 52 (UFA), 40 (UFA & surgery), 86 (now retired), and even 74 (traded?!) could all be gone before opening night, I would have to think that the B's are in for a major overhaul to the roster. They have the cap space and uncertainty with current UFA/RFA players to really be aggressive and add to this core.
–Tim Morrison (via Facebook fan page)
JH: I don't think that chance is very real. Certainly not with Patrice Bergeron entering the final year of his current contract and the Boston Bruins motivated to at least go for it this one last season before looking at a more significant restructure.
I think Taylor Hall is going to get done at a pretty good number for the player and the team, and Tuukka Rask should be back in the second half of the season. Once Hall and Krejci are theoretically signed, the Bruins will be around roughly $14 million in cap space, and a contract for Nick Ritchie in the $3-4 million range would eat up more of the cap space. Realistically you're talking about $6-8 million for a top-4 left shot defenseman and a possible upgrade at right wing all while trying to hold onto your first-round pick, top prospects and any possible extra cap space you can carve out along the way.
That doesn't signal major overhaul to the roster right now for the Black and Gold. But be careful what you wish for, because that could be coming in the next few years as Bergeron turns 37 years old this summer and the Bruins core group isn't getting any younger.