Boston Bruins' Tuukka Rask Primed & Ready For Playoffs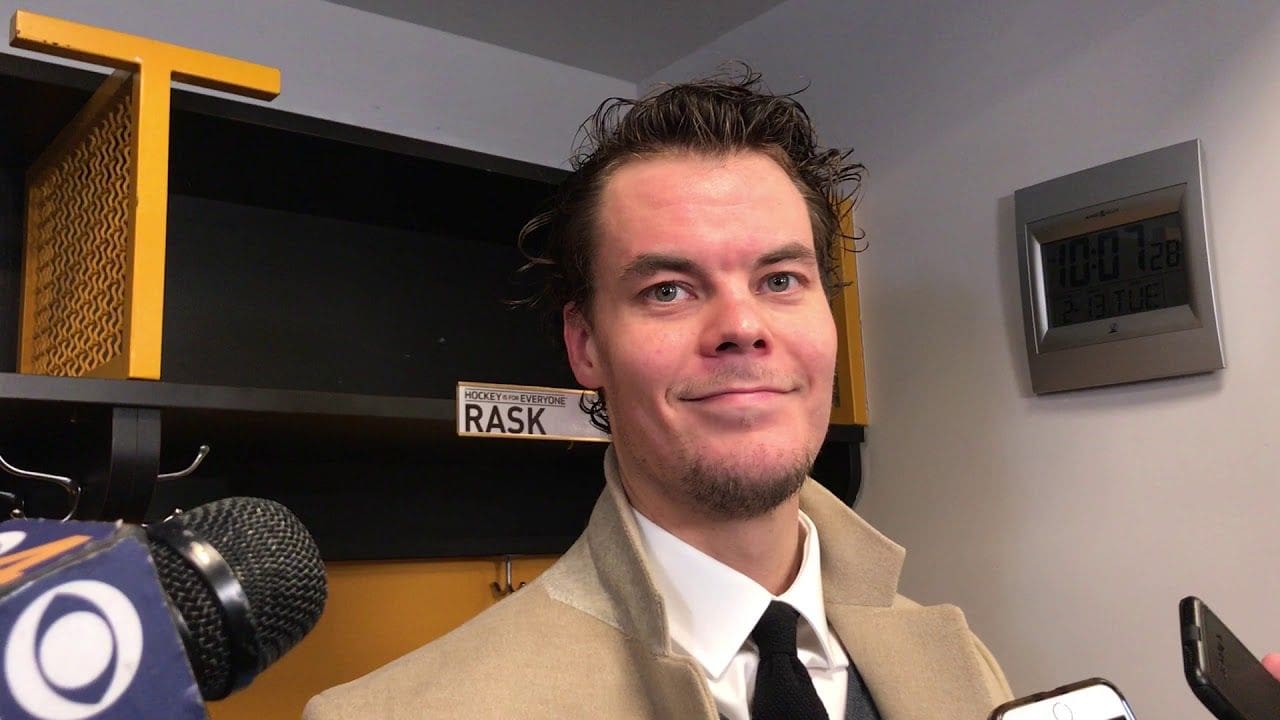 It seems fairly self-evident that Boston Bruins goaltender Tuukka Rask is primed and ready for the Stanley Cup playoffs at this point.
The 34-year-old goaltender is rested after getting a month off to deal with an upper body injury and has returned with a vengeance going a perfect 6-0-0 with a .943 save percentage since coming come back from the suspected back injury.
The punctuation mark arrived in Monday night's 3-0 shutout win over the New Jersey Devils that clinched a playoff spot for the B's and gave Rask his best results (a 20-save shutout) while being consistently good down the stretch. The Bruins goaltender curiously admitted he still doesn't feel "100 percent physically" and there's a possibility he may be dealing with some wear and tear issues headed into the postseason.
But it certainly looks like he's primed and ready for two months of peak performance in the postseason based on recent results. And there aren't any distractions or issues on the horizon like the ones that ended his postseason prematurely last summer.
Instead, Rask has kind of "grinding it out" this season while being middle in the pack in most statistical categories, but perhaps will end up saving the best for last.
"I don't think I've been 100 percent physically, I don't know since when," admitted a smiling Rask after the 20-save shutout performance against the Devils. "But that's probably been this year for me physically, just kind of grinding it out mentally.
"Obviously, I didn't play for a month or whatever there, so you kind of get a break from hockey in that regard. I guess it's always a challenge physically and mentally. But I think we gotta be proud about how our team handled this past month or so when we were playing every other night or a back-to-back situation. You've got to be proud of the guys and how they handled that. Personally, I think the physical aspect has been the most challenging this year for me."
Rask thinks he'll get one or two more starts down the stretch with five games remaining in the season, so he's exactly where he needs to be workload-wise headed into the Stanley Cup playoffs. Now it's about determining his backup situation with Jaroslav Halak getting his first start on Tuesday night in New Jersey since coming off the COVID Protocol list weeks ago.
"Jaro is going to start tonight. We had a discussion about Jaro versus Swayman, and [goalie coach Bob Essensa] said that [Halak] got his work in and his ready to go," said Boston Bruins head coach Bruce Cassidy. "So that's the direction we're going to go tonight.
"Tuukka is probably going to play two more games…home games. After that we'll sort out who is going to get what game. Let's see how Jaro does tonight first and foremost to see where his game is at. We know that Tuukka is on his game and we know that Swayman has played well for us. We'll see where they fit in after [Rask]."
Rookie Jeremy Swayman has been just as "lights out" as Rask over the last six weeks with a 6-2-0 record, a .942 save percentage and a 1.62 goals against average since getting pushed into action with the top two B's goalies out of commission.
That all leads to plenty of uncertainty over whether it will be Halak or Swayman in the remaining few games during the regular season not started by Rask. And that leads into the natural question about which goaltender is going to back up Rask during the upcoming playoff run as well. But let's be honest here: It's not going to matter if Rask can channel his performance level from the 2019 Stanley Cup Final run while currently at the very end of his contract with the Bruins.
It remains to be seen what happens following this season, but win, lose or draw he should be looking at something similar to the three-year, $15 million contract that Pekka Rinne signed a few years ago in Nashville. Maybe it's a year less in term based on financial adjustments made for the flat salary cap due to COVID factors, but that's the neighborhood Rask should be living in if he keeps on suiting up for the Black and Gold.
The Boston Bruins No. 1 goaltender should have plenty to play for with a new contract hanging in the balance, and some unanswered questions, fair or unfair, remaining after exiting the playoff bubble in Toronto last summer. Rask is playing right now like he's got all the answers for the Black and Gold, so that's another part of a pretty golden situation where it looks like things are piecing together for the B's at the right time headed into the postseason.