Real Boston Bruins Showing Up, Winning At 'Crunch Time'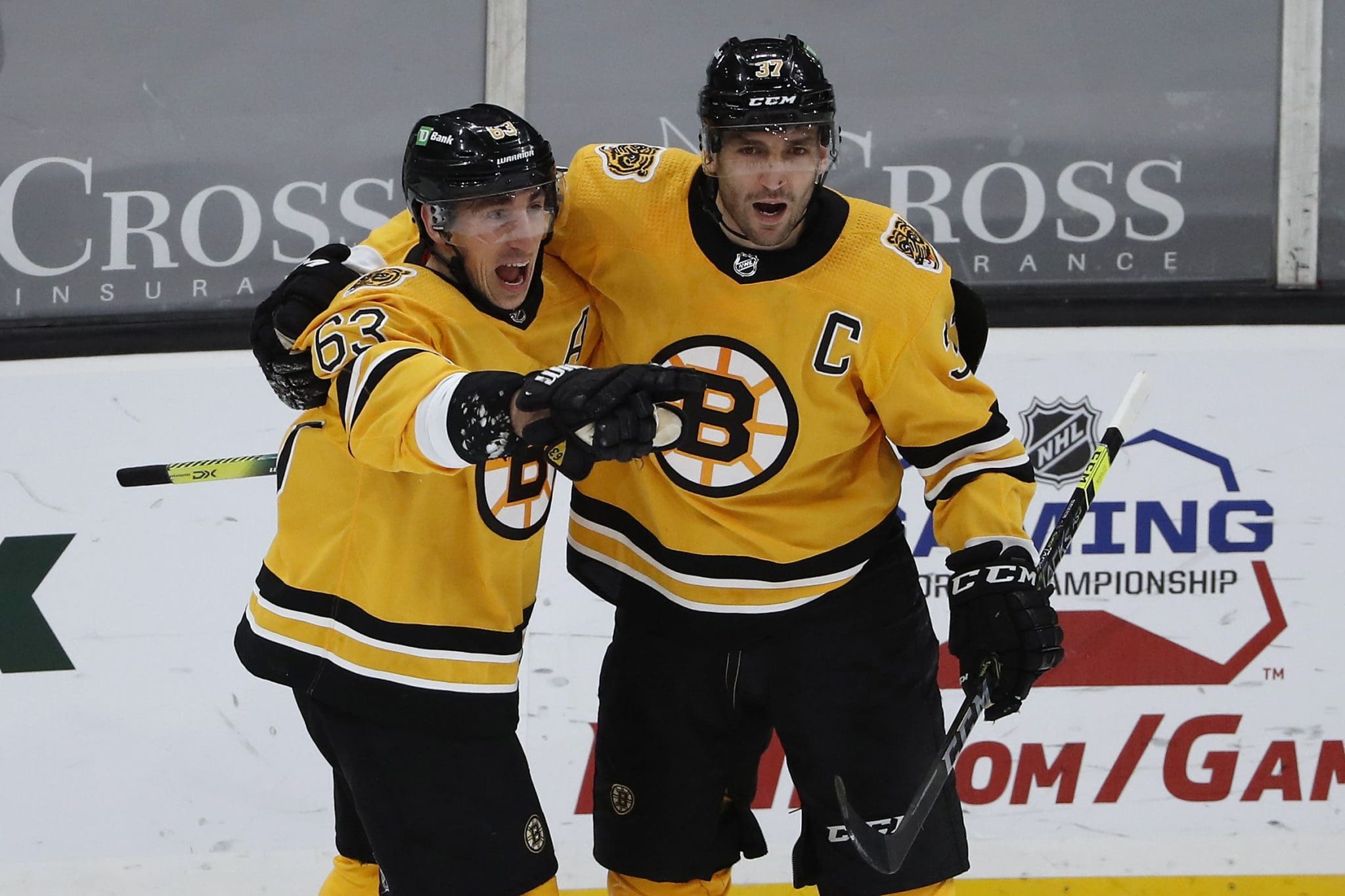 The Boston Bruins once again are winning hockey games when it comes to "crunch time".
It's what they've done for the last five years under head coach Bruce Cassidy, and it's what they've done most seasons since Patrice Bergeron, Brad Marchand, David Krejci and Tuukka Rask have comprised the Black and Gold's core group. So, it seems that audition time is over for some of the young Bruins players filtering in and out of the lineup, and the B's are plainly and simply doing what they need to do to win hockey games.
It's also coming with some of those young B's players stepping up as well, of course.
Jeremy Lauzon scored the game's first goal in Thursday night's 4-2 win over the Washington Capitals at Capital One Arena, and Anton Blidh added the second goal in an adventurous night where his double-minor penalty also led to a pair of Washington power play goals. But it's clear that Boston's best players are now playing to win titanic divisional games with postseason ramifications.
Brad Marchand scored a breathtaking shorthanded goal in the win over the Capitals for the game-winner, and Patrice Bergeron added a hat trick in Tuesday's massively important win over the Flyers at Wells Fargo Center.
Boston's best are pulling everybody along for the ride with contributions from others along the way.
"This is a big week for our team. We're playing Washington a few times, Philly, teams that we're trying to catch and teams that we're obviously trying to stay head of. It's crunch time. We have to continue to separate from the teams below us and we have to build toward the playoffs, regardless of who is in and out of the lineup every night," said Marchand. "We have a goal every day and it's 'progression.' We don't need to be great at the start of the year. It's how you finish, and I think we're building and getting better at the right time."
It was two wins in a row for a Boston Bruins team that had been mired in a win one/lose one rut for the last three weeks, and certainly appeared as they were treading water while holding onto the fourth and final playoff spot in the East Division. Clearly there were injuries, outbreaks and COVID Protocol challenges at play that bled into all of it, but the Bruins have come out on the other side looking strong, inspired and ready to make their playoff push.
"I think our guys were committed to playing the right way all night," said Boston Bruins head coach Bruce Cassidy, following the Thursday night win over Washington. "Every player that went over the boards in the third [period] had the same, common goal and that was 'we're going to play together, we're going to manage pucks and we're going to take advantage of it if we have the situation.' That's winning hockey and I thought we did a good job of that. I thought we were full value."
Certainly, they look to be in a good spot with a six-point playoff cushion and two games in hand against the Flyers and Rangers chasing them. They're also just four points behind the third place Pittsburgh Penguins with three games in hand against the Pens, and even within striking distance (eight points) of the Islanders atop the East Division.
"It was a funk we were going through that we knew we would work out of. We had a lot of injuries and a lot of guys fighting their game a little bit," said Marchand. "But with this group and the character that we have, we knew we were going to fight our way out of it, come back and build our game the way we wanted to. That's kind of what we've done."
It's probably no coincidence that some of the winning coincided with Chris Wagner being installed back into the fourth line after the Boston Bruins cycled through other energy line options like Jack Studnicka, Anton Blidh, Oskar Steen and Greg McKegg. And Kevan Miller getting healthy to give the Bruins swagger and warrior play in the defensive zone after battling knee issues for the last six weeks. The message their returns sends to the rest of the group is that the Bruins are putting their best 18 NHL skaters on the ice nightly to win the two points.
That's exactly what they've done in the last couple of games while taking seven of the last eight points with an overtime loss to the Flyers sprinkled in as well.
Clearly, they can't afford to let up with just a month remaining in the regular season when they take the ice against Philadelphia on Saturday night with a chance to give their playoff hopes a death blow. But there's little worry about that now that Boston's veteran guys are locked in and smelling the Stanley Cup playoffs with an incredibly odd regular season nearing its conclusion.