Murphy: Would The Bruins Consider Trading McAvoy?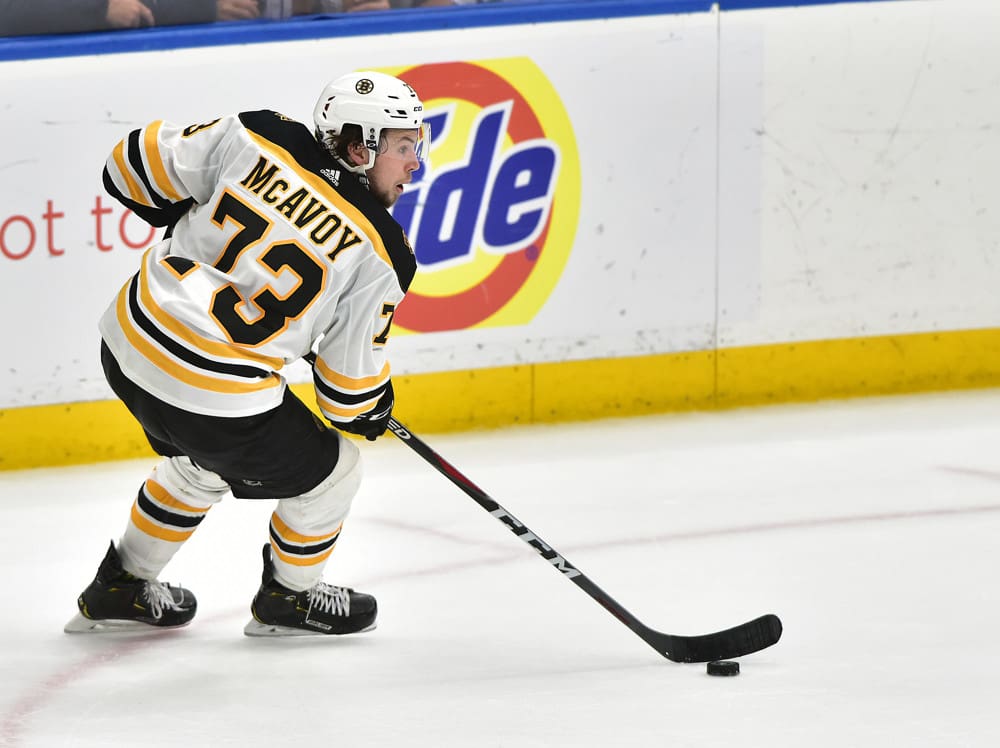 The Boston Bruins haven't tried to hide the fact that they have been searching and continue to search for a top 6 scoring winger in advance of the February 25 trade deadline. While it's been widely speculated that the Bruins will likely try and use one of their younger depth forwards, a top defensive prospect and potentially a draft pick to acquire that coveted player, would they now consider trading away the defenseman some consider the heir apparent to captain Zdeno Chara and the next guy in a line of hall of fame worthy blueliners that's included Chara, Ray Bourque, Brad Park and Bobby Orr? Would and could Bruins general manager Don Sweeney be starting to explore what Charlie McAvoy could net in a trade before the deadline? That sounds crazy even to write but it's not out of the realm of possibility.
Immediately after he watched the Bruins blow their second three-goal lead and lose again in less than a week, falling 4-3 to the Pittsburgh Penguins in Pittsburgh Sunday an NHL pro scout texted the following:
"Don't be surprised if the Bruins move McAvoy."
A few more calls to other scouts and an NHL executive clarified that while Charlie McAvoy isn't being shopped by any means, there is growing speculation around the league that Bruins general Sweeney may not just be looking to trade for a rental to fill the scoring void on the second line but that he may now be considering "a statement trade" as one NHL scout termed it. The feeling is that the 22-year-old rearguard whom the Bruins signed in training camp to a three-year contract worth $14.7 million, could be used to make that statement and address the Bruins most pressing need not just this season but for the foreseeable future as McAvoy could very likely net Sweeney a young scoring winger with term.
After McAvoy coughed up the puck to Penguins forward Evgeni Malkin behind the Bruins net and Malkin fed it to teammate Bryan Rust for the game-winning goal 12:35 into the third period, Bruins head coach Bruce Cassidy did not hold back calling him and the defense out just as he did following his team's 6-5 shootout loss in Philadelphia in which they blew a 5-2 lead. 
"We saw some poor defending, poor goaltending I think in Philly. Tonight I thought it was more the same to be honest with you," a beyond frustrated Cassidy said. "Not so much on the goalie, they were good goals. But we get beat off the wall on the first one. The last one I can't tell you what happened to be honest with you. It's a rimmed puck goalie needs to get out and stop. The D need to communicate.
#NHLBruins react after today's 4-3 loss to Pittsburgh: "You can get outplayed, you will by good teams in stretches. But they were gifts tonight." pic.twitter.com/tnOW8pgoJu

— Boston Bruins (@NHLBruins) January 19, 2020
"You need to make a play. You can't turn the puck over there. There's too much of that going on. Guys that have offensive ability have to start playing to their strength a little more on our back end, or we have to seriously consider what type of D corps do we want? We are supposed to be mobile, we are supposed to be able to move the puck, break pucks out and add to our offense. Right now that is a challenge for us."
Questioning "what type of D corps do we want" can only be taken as a direct shot at the defenseman the Bruins envisioned and are waiting for to become the key component of that blue line core, that also includes Brandon Carlo and quite possibly Matt Grzelcyk and top prospect Urho Vaakanainen. McAvoy is the mobile defenseman they envisioned becoming the man on the blue line this season and proving during this current bridge contract that he is worthy of a long-term deal when he becomes a restricted free agent again in July 2022.
Carlo has taken another step forward this season eating up minutes while Grzelcyk has had an inconsistent season thus far and was even a healthy scratch for a 3-0 loss to the Blue Jackets in Columbus on Tuesday. McAvoy actually played some of his best hockey recently and has shown he can handle big minutes as he did last Saturday when he logged 28:43 and collected an assist in a 3-2 overtime win January 12. The problem though, is that on more nights that not this season, McAvoy seems to become less engaged and makes costly turnovers. Unfortunately for the Bruins though, he's not the only one.
"We got out-chanced in the second, but I don't think it was to the point where they were bombarding us," Cassidy went on. "They were better, but we lose a battle low on the second goal, and our forward swings away. These are correctible mistakes, but the goals we are giving up against this good team like tonight. What is it? Is it lack of focus? Did we lose our urgency? Because they are gifts a little bit. Little bit of gifts. You can get out played, you will by good teams in stretches, but they were gifts."
McAvoy to his credit and as he always does, owned his mistake Sunday.
"I got it and I was trying to make a reverse play to [Kuraly]. There are good players in this league. They made a good play. I've got to be stronger on the puck," said McAvoy. "I was trying to make a puck possession play. I'll have to look at it and get better from it, but it obviously hurt us. It's frustrating. From an overall game I was feeling good and liking my game, but then it's tough to give up a play like that and feel good about it. I've got to be better for the team and for [Jaroslav] Halak."
Anyone who saw McAvoy address the media immediately following the Bruins' Game 7 loss to the St. Louis Blues last June knows that the 14th overall pick at the 2016 NHL Entry Draft loves playing for the Bruins as he made it clear he wants to be 'part of the winning' in a city that has seen a multitude of championship parades over the last 20 years. No one is questioning McAvoy's desire to win but it's clear that not just Cassidy, but Sweeney and his staff are questioning if McAvoy can realize his potential and help the Bruins win now in what is a rapidly closing window for their aging veteran core.