Bruins High Five: McAvoy And Carlo Top The List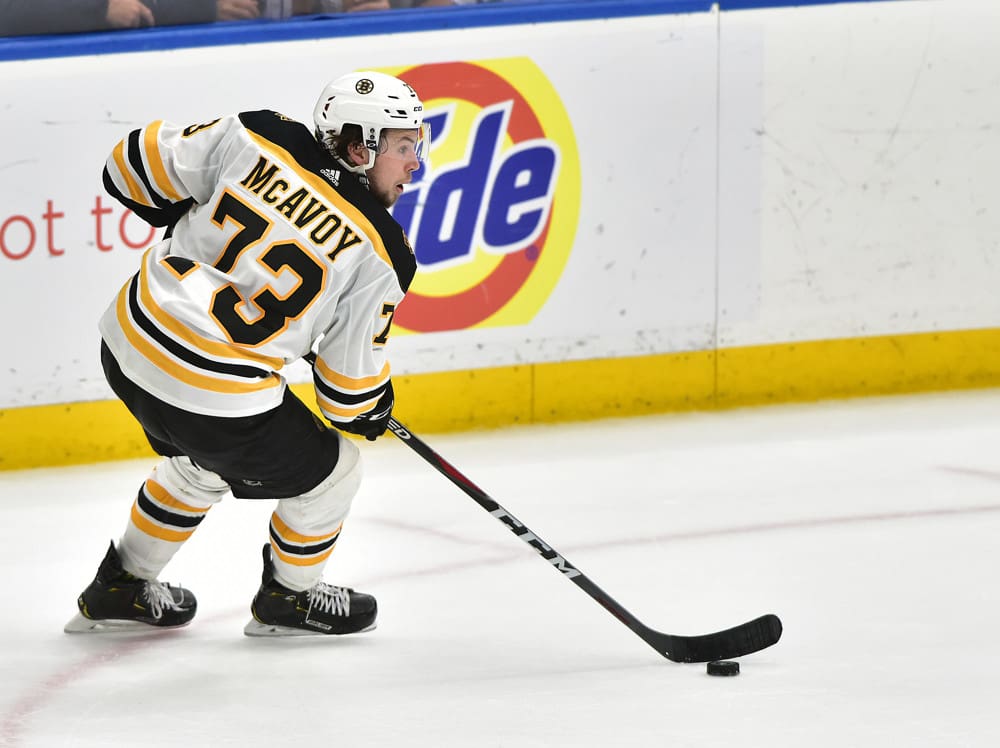 Welcome to the debut of 'Bruins High Five' where we look ahead to each coming week during the Boston Bruins season with five key topics to focus on!
The Bruins hold their annual golf tournament today and start training camp on Thursday. Preseason games will kick-off a week from today when the Bruins travel to New Jersey to face the Devils. The biggest question facing the Bruins right now, of course, is will they sign restricted free agent defensemen Charlie McAvoy and Brandon Carlo? Not surprisingly that tops our high five for the week.
Will There Be A Big Announcement Before Camp Starts? In previous years, the Bruins have used their annual golf tournament as a venue to announce signings. Whether it's been Mike O'Connell announcing a contract extension and captaincy for Joe Thornton back in 2005, or Don Sweeney announcing David Krejci's current contract, the golf tournament has served to be a spot to take care of unfinished business, hit the links and report to camp a few days later. With Sweeney speaking after the final Prospects Challenge game in Buffalo Monday morning though, chances are even if McAvoy and/or Carlo are signed Monday, a press conference would take place the next day. Both RFA's resumed talks with Sweeney last week, but as of Sunday, all was quiet as far as putting ink to paper and getting these two key cogs on the Bruins blue line on the ice for camp. Right now, by the start of camp even seems like wishful thinking!
Will Sweeney Have To Make A Cap Related Trade? If Sweeney is indeed able to finally lock in one or both of McAvoy or Carlo, he likely will have to clear cap space, given he currently has just $7.2 million to play with. Of course, he can buy some extra cap room by placing injured defensemen Kevan Miller and John Moore on long-term injured reserve, but moving a salary or two now would be preferential. If Sweeney does take the trade route, he likely would want to do it before camp begins, so as to not disrupt any chemistry that forms and in effect give head coach Bruce Cassidy and his staff a better feel on what they have for the upcoming season. So this is definitely something to keep an eye on for the next week.
Will Sweeney Address Torey Krug's Status?  On Thursday, Bruins defenseman Torey Krug – who can become an unrestricted free agent next July 1 – told the media that he is willing to take less money to sign an extension and remain with the Bruins past this season. Krug also acknowledged that he was surprised that talks on an extension have been "nonexistent" and he's hoping that changes soon. Whether Sweeney announces a contract for McAvoy and/or Carlo or not, he is scheduled to address the media prior to the golf tournament. He likely will be asked about Krug's comments and willingness to pass up paydirt on the open market to stay in Boston. How will he respond? Will contract talks finally become existent?
How Close Is Chara To Being Ready? On Friday, Bruins captain Zdeno Chara told the media he's not sure whether he will be ready for training camp as a result of offseason surgeries. With that in mind, it will be interesting to see how active Chara is during the early days of training camp and the regimen he and the team have him on. During Friday's Captain's practice, Chara participated in drills but did not look like himself and also didn't participate in the scrimmage at the end of the session. At 42, can he recover from injuries and surgeries as fast as he has in the past? We shall see!
Will Their Be A Playoff Hangover? It would be nice to say a 'Cup Hangover' but that's for the St. Louis Blues to deal with this season and unfortunately not the Bruins. Unfortunately, even losing in the Stanley Cup Final can leave a hangover and Chara may not be the only player, not himself as camp and the preseason begins. Many will focus on the veteran core of Chara, Krug, Patrice Bergeron, David Krejci, Brad Marchand, and goalie Tuukka Rask, but what about the younger players who aren't used to playing as many games as they did thanks to the playoff run the team went on last spring? How will Jake DeBrusk or David Pastrnak or Matt Grzelcyk amongst others respond? What about veterans like Charlie Coyle and David Backes – the latter of who had offseason surgery – respond after going further in the playoffs than they had to that point?