Murphy: McAvoy Waiting Game Becoming Dangerous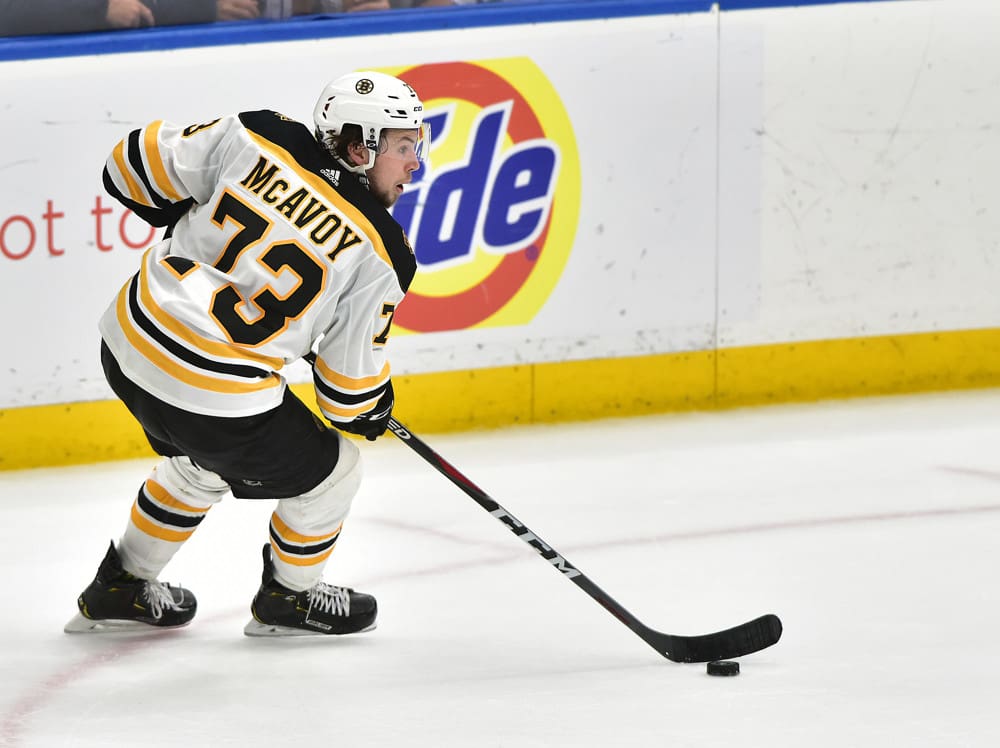 While both sides would love to get a deal done, the Boston Bruins are playing it cool with RFA Defenseman Charlie McAvoy. And McAvoy is in no hurry to set the market for young, talented defensemen, either.
Unlike similar situations, such as Patrik Laine and the Winnipeg Jets, there has been no public discord or hint of a potential divorce between the Bruins and widely hailed future backbone of their blue line. As the Sept. 13 start of training camp draws closer, one has to wonder though how long the harmony will last?
Sources have indicated to Boston Hockey Now, while the Bruins are ready for the stalemate between them and the restricted free agent defenseman to end, should McAvoy not be in the opening night lineup, some in the Bruins camp are ready to weigh other options.
Neither side wants to part ways, and McAvoy has repeatedly stated he wants to "remain a Bruin forever" and most recently, to BHN, expressed a desire to get a contract done. 
"It would be nice," McAvoy told Boston Hockey Now. "Once it gets done, you can carry on with what you're doing."
Throughout the offseason, NHL sources have continually told Boston Hockey Now that McAvoy and his camp have at times felt McAvoy's potential was similar to Los Angeles Kings defenseman and 2016 Norris Trophy winner Drew Doughty. Now we're told parties are using Columbus Blue Jackets defenseman Zach Werenski as the market setter.
On Wednesday, McAvoy's agent Michael Curran opened up to Fluto Shinzawa of The Athletic, about the current state of negotiations and reiterated McAvoy's desire to remain a Bruin.
"The conversations have been going fine, and they're still continuing," Curran told Shinzawa. "Time will come where we find a meeting place. I just don't know when it's going to be. Charlie wants to be a Bruin."
That is concurrent with all that's been told to BHN, but Curran's next comments may be in sync with what both player and team would love to do, but thanks to just $7.2 million in salary-cap space is not likely possible at this time. Factor in the team still having to sign fellow RFA, right shot, defenseman Brandon Carlo and something will need to give.
"This time now, it does seem there's a lot more kids eligible to receive those big contracts by virtue of how good they are," Curran said of the breadth and depth of stars leaving entry-level. "If I'm a team with a stud forward or D-man and I can lock him up for six, seven, eight years, and you have a cap that's going to increase — well, you hope — I'd be doing the same thing and locking him in."
Unless Sweeney pulls of some cap magic between now and September 13 when training camp starts or October 3 when the 2019-20 regular season begins, McAvoy may have to settle for less than what both sides believe is his market value.
So while both sides want to get a mutually fair deal done sooner than later, things may not remain as peaceful between McAvoy and the Bruins should this trickle late into camp and potentially the regular season. It's not that either side drastically disagrees on the parameters of a new contract for McAvoy, but that the simple math of the Bruins cap situation might dictate otherwise.